Projects
01/03/2019
An impressive single-family house cladded with natural slate near Warsaw

This impressive house covered with natural slate is in Magdalenka, a village 15km away from Warsaw, in Poland. Its location, surrounded by large trees, is extraordinary.
This stunning project was led by the architecture firm Kuryłowicz & Associates. As they explain on their website, their aim is to improve and create space through the power of architecture. This slate-clad family house is a good example of it.
A slate-clad house divided into two parallel buildings
Our first impressions are two independent houses, however, that is part of the charm. This stunning project is a unique single-family house, approximately 200m2. While the pitched roof can remind us of a traditional roof, the slate cladding combined with the large windows and the wood walls provide a truly contemporary look.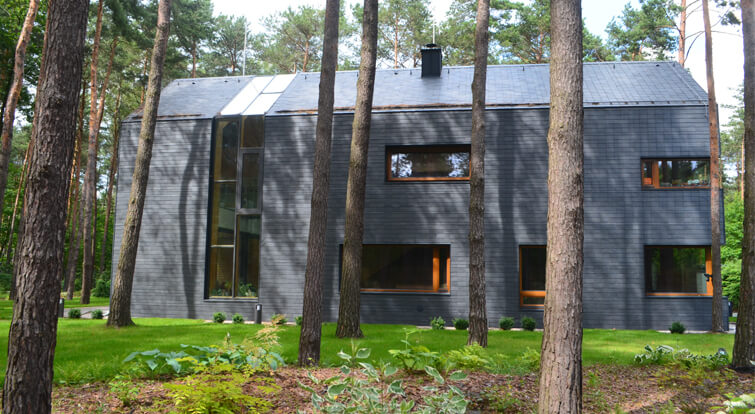 Combining both roof and facade, this building has a surface of around 1000m2, and all of it has been covered with our dark grey slate CUPA 12. The slate units used for the project measured 30x20cm, but some of them were cut to create an irregular pattern on the facade. This marvellous work has been completed by the roofing company Lupkidachowe.pl.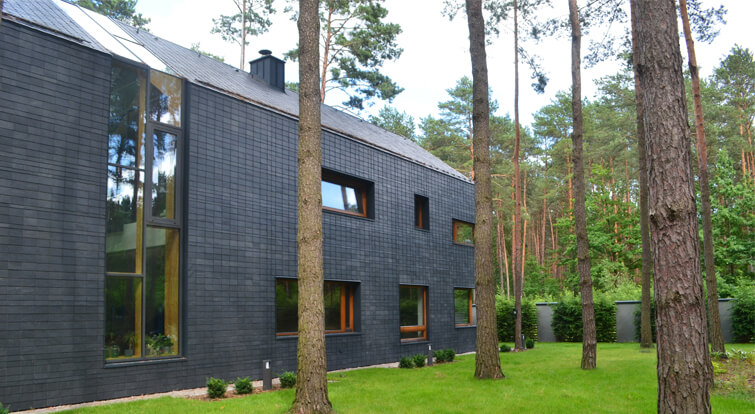 Our slates are non-carbonated and formed by tectonic compression, which stand out for their durability and high performance. The CUPA 12 slate can be distinguished by its thin laminations and smooth surface. Moreover, its shades of dark grey provide a superb finish.
A perfect integration in nature
This building is surrounded by nature and its integration is brilliant, especially considering the size of the construction. The harmonious mix of natural materials and the use of large windows help integrate this impressive building into the environment.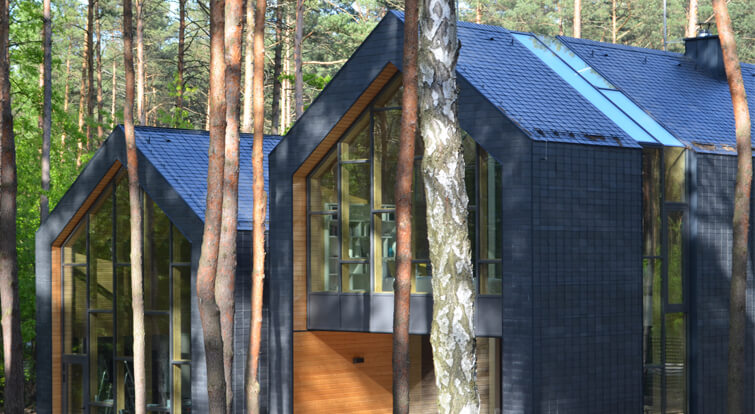 The use of natural slate, wood and crystal is very well proportioned. The outstanding slate cladding makes the trees around the house look even more impressive, while the large windows make the space look airy and welcoming. Furthermore, they beautifully reflect the colours of the landscape highlighting the beauty of natural slate.
If you liked this architectural project, do not miss this amazing slate-clad house near the Vejle Fjord (link to the post when it's published). Both are good examples of creative houses that have been naturally integrated in to the environment.
And, if you are looking for efficient and eco-friendly building solutions, discover our natural slate rainscreen cladding system CUPACLAD®.