Projects
08/14/2019
CUPA PIZARRAS supplies luxury roofing to listed building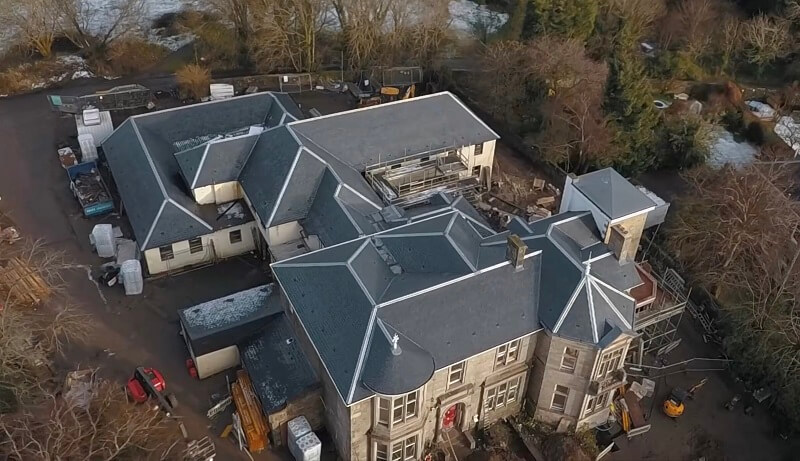 A listed building in the seaside town of Helensburgh required a complete re-roof in order to accommodate new luxury apartments. Due to strict planning restrictions, CUPA PIZARRAS' Heavy 3 slate was specified due to its close resemblance to the original Scottish slate used on the project.
Built in the 1860's and extended by celebrated Scottish architect William Leiper, the Braeholm building is an outstanding testament to the Gothic Revival architecture and design of the period. Gaining Category B listed status in 1993, it has seen many changes of use over the years, from mansion house to maternity hospital, to seaman's mission. Now owned by property developer Panacea Property, the exclusive development of twelve, bespoke two and three bedroom apartments combines historical architecture with a modern interior to create a unique luxury.
Jim Lough, Independent Surveyor, specified the slate for the roof. He said,
Due to its listed status, the new roof had to be as close to the original as possible in order to meet the requirements. There were earlier plans to try and save the native Ballachulish slate, however it had deteriorated significantly over the years. We instead turned this into chipping slate, and we specified CUPA PIZARRAS' Heavy 3s as they are the closest match.
Similar to Ballachulish slate, Heavy 3 has the same blue-black colour and thickness of 7-8mm, giving it the strength to withstand the high wind speeds and driving rain that is common throughout Scotland.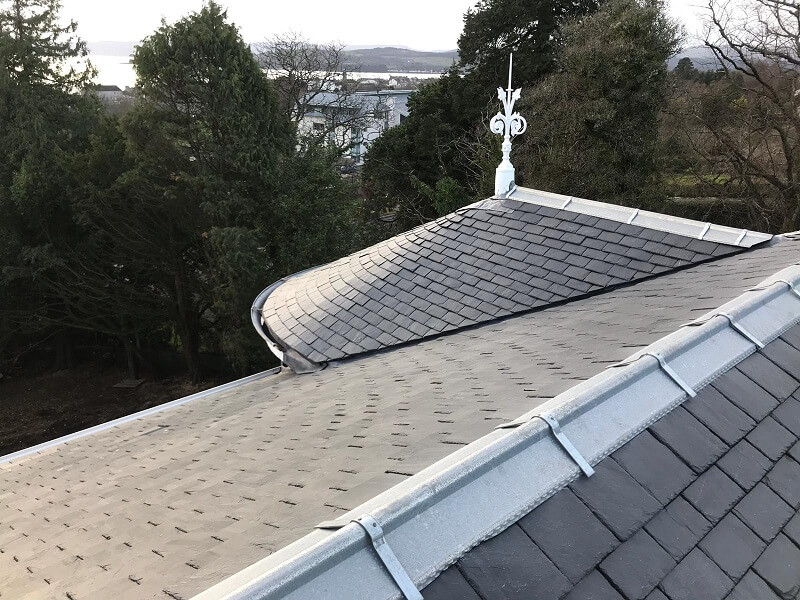 "We were really keen to get started on such an iconic, heritage building, especially with the prominent roofing features," said Darren McGhee, Managing Director of DMG Roofing & Building Ltd.
Heavy 3 helped these features as although it was easy to cut, the slates themselves did not break easily and were incredibly durable. This in turn helped with costs and with labour time, as minimum breakages meant less slate was wasted, reducing the need to order new slate. We'd never used CUPA PIZARRAS' slate before this project, but will definitely be using it again.
"Delivery was also an issue, as this was a massive heritage project building and the roof needed to be completed in stages to meet a strict schedule," Darren continued.
To accommodate this, not only did CUPA PIZARRAS arrange for the slate to be delivered in stages, the delivery was also arranged with the exact amount of slate required and arranged on the palettes in size order. This made it significantly easier for use as the exact slate we needed could be accessed at the right time which avoided any delays.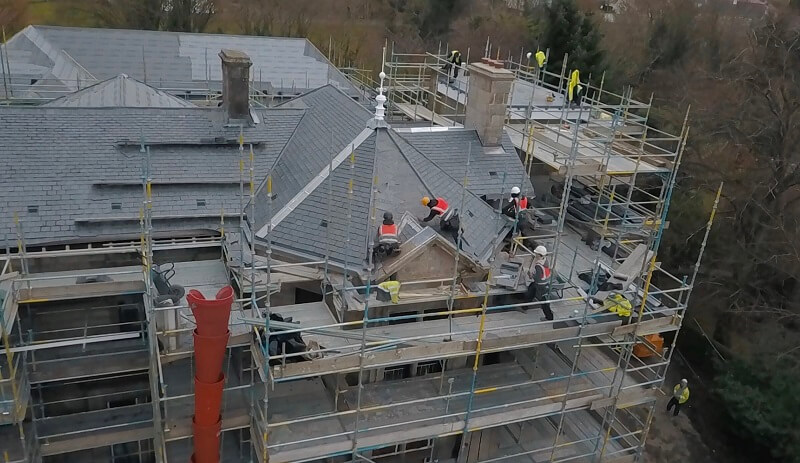 Not only is the slate absolutely fantastic quality, it looks stunning on the roof. This is such a special project, and the advice, samples and service from Allan Liddell – our Area Specification Manager at CUPA PIZARRAS – has been second to none. We will definitely be using CUPA PIZARRAS products on future projects and we'll be recommending them to our colleagues and customers.
Still in development with apartments available to view this year, the Braeholm building will provide a unique home experience to future buyers.