Cupaclad
17/02/2020
'Adaptive Reuse' to reinvent an old house in Chicago with CUPACLAD Parallel
Humboldt Park is one of the trendiest neighborhoods in Chicago. At the Fairfield Avenue there is a house that has undergone a radical change to become one of the coolest buildings in the area. Following an 'Adaptive Reuse', the transformation gave it a second life and a new purpose.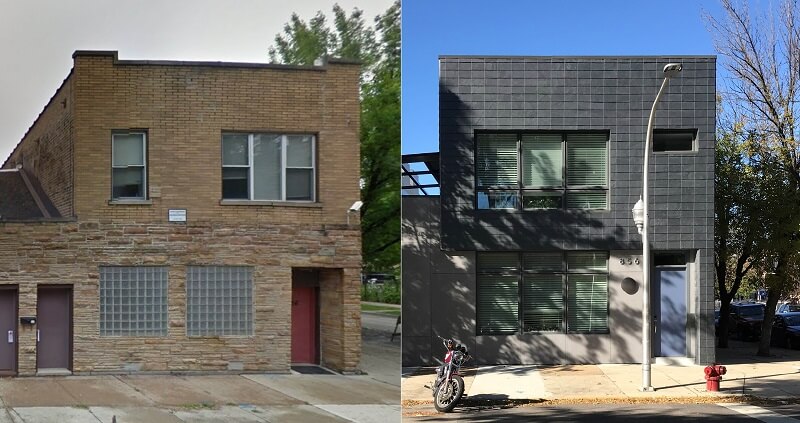 Originally, the property hosted a noisy bar frequented by bikers. Over time, the building's deterioration led to the closure of the tavern and the building remained empty for several years, aggravating the decline.
When Amy Yurko, AIA, Founder and Owner of BrainSpaces Inc., a consulting firm, saw the opportunity, she didn't hesitate. However, the condition of the building was devastating: it had been cladded over several times and layers of the bricks and blocks were exposed.
They decided to put in place the concept of 'Adaptive Reuse', which means the repurposing of buildings that have outlived their original use. To become integrated in the neighbourhood, the designers were looking for a ground-breaking appearance.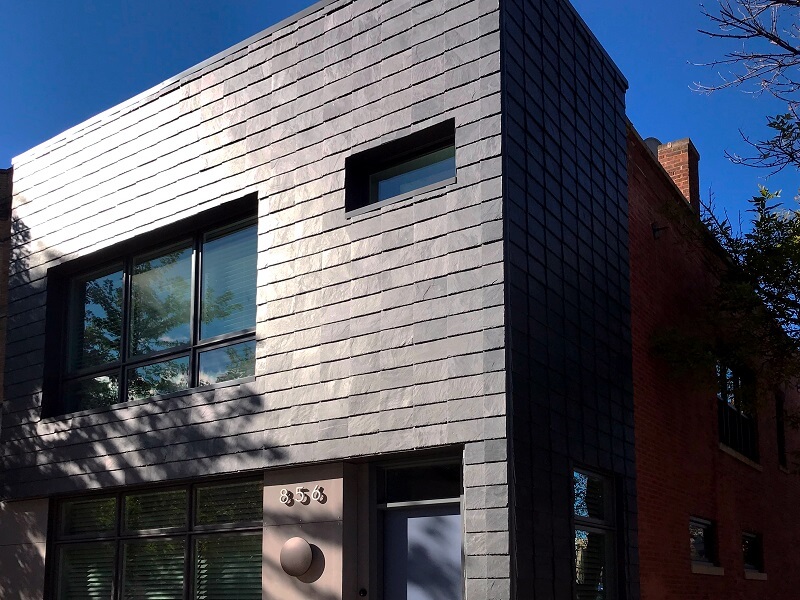 We wanted something modern and pleasing to the eye. The neighborhood is deserving of that.", explained Amy Yurko.
After an in-depth analysis, one premise emerged:
There was no doubt we would be utilizing a rainscreen system.
After some research, our natural slate rainscreen cladding system was chosen. The CUPACLAD 101 Parallel offers an innovative style, with a characteristic homogeneity that enhances the texture of the slates.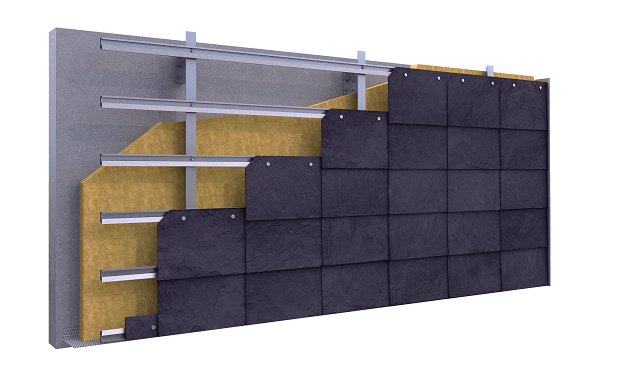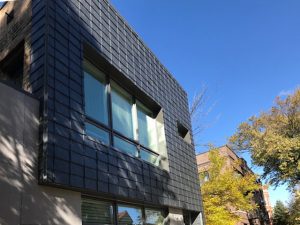 Almost a hundred square meters of façade were covered with 40×25cm slate tiles. The combination of natural slate with the rainscreen cladding system is an alternative that combines efficiency, durability and modernity.
But CUPACLAD® also gave us a surface that was complementary with our modern aesthetics. The surface looks different every time… wet and dry. We have this glistening façade one moment and then a buttery smooth matte exterior, the next. CUPACLAD's sleek, timeless slate material is certainly turning heads, recognizes Amy Yurko.
The temperatures in Chicago appear in the news from time to time because they break negative records. With this background it's important to use materials capable of enduring extreme temperatures. CUPACLAD provides considerable benefits including energy efficiency, comfort levels and ultimately, savings.