Roofing
07/04/2021
CUPA PIZARRAS European Tour Aftermovie
After an intense week, the CUPA PIZARRAS European Tour came to an end, we hope you enjoyed this virtual trip as much as we did. Six roofers from different locations in France, Belgium and the United Kingdom showed us their best skills and taught us some natural slate secrets.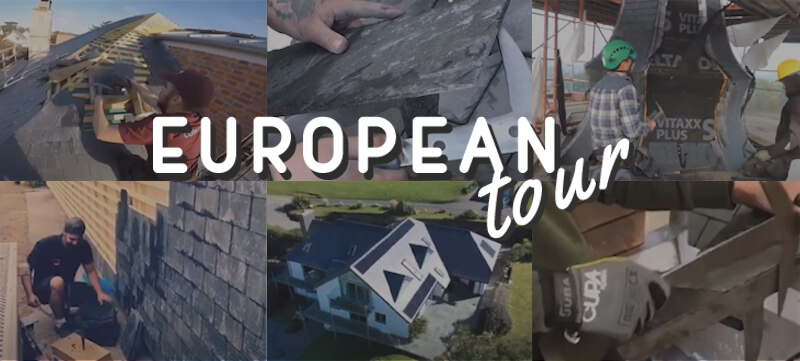 In case you missed one of our six stops, do not worry: we have prepared the highlights of the trip, so you can enjoy it whenever you want. Did you know that there this many different ways to treat and install natural slate?
Each to their own, so we have prepared a quick survey at the bottom where you can vote for the roofer that you liked the most. We want to know your opinions!
Are you also a natural slate professional? You can use the hashtag #CUPApizarras in social media to showcase your work, we will be more than happy to share it with our community! If you are interested to engage in the next events… feel free to contact us in the way you prefer, via our website or any social media channels!
Even if this is not a competition, we would like to know which roofer was your favourite. You can evaluate skills, job quality or even tool handling. Let's see your favourite!
What's your favorite roofer?
Matthieu Vion (France) (49%, 1,043 Votes)
Luc Van Steertegem (Belgium) (36%, 758 Votes)
Les Toits de Maxime (France) (7%, 153 Votes)
Stuart Wheeler Roofing (UK) (7%, 144 Votes)
Ryan Edgar (UK) (0%, 8 Votes)
Jim (France) (0%, 4 Votes)
Total voters: 2,110

Loading ...