Projects
10/01/2022
Faroe Islands Photography Tour: CUPACLAD's wild nature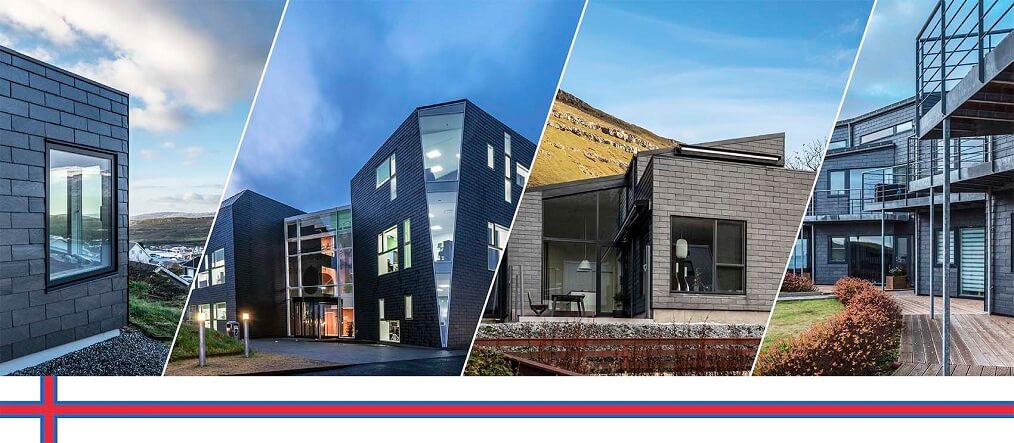 The Faroe Islands is a little-known archipelago located 320 kilometers north of Scotland. Where the weather is cold all around the year and the islands have an average of 210 rainy or snowy days per year. However, these extreme climatic conditions create exceptional natural landscapes.
Architecture in the Faroe Islands is therefore crucial to create comfortable and warm homes. CUPACLAD, our natural rainscreen cladding system, has been chosen for some of the most beautiful and groundbreaking projects on the islands. The reason why is clear: the alliance between performance and aesthetics.
EIK Bank – Fuglafjörður
The customers of this bank can see both the mountains and the sea at a single glance when entering the building. Natural slate clads the exterior and some parts of the interior, blurring the boundaries and creating and harmonious ensemble.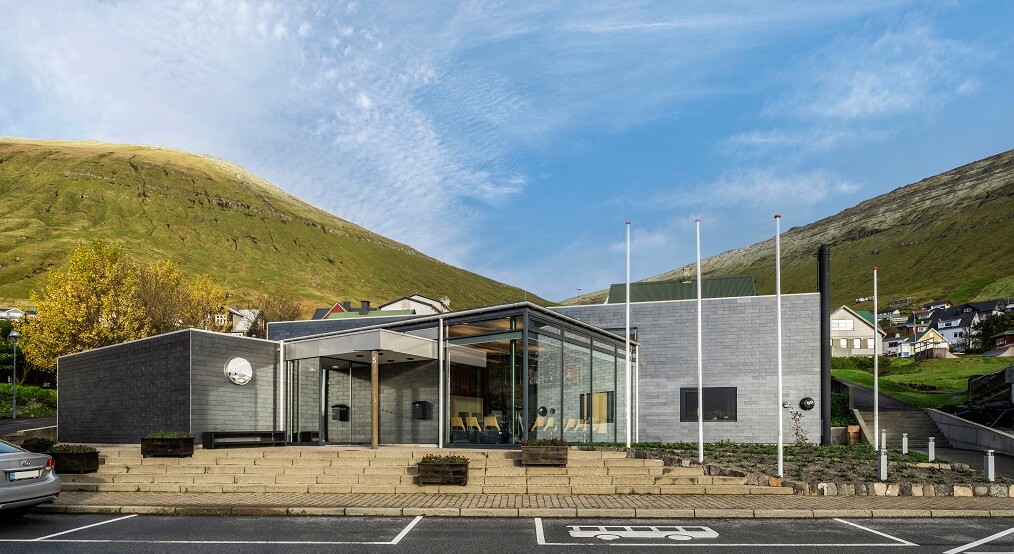 Apartment Building – Skansin
12 private apartments with their own balconies that fulfil the technical standards and requirements of the modern residential architecture. The appearance of the façade never remains stagnant as it transforms with the light throughout the day.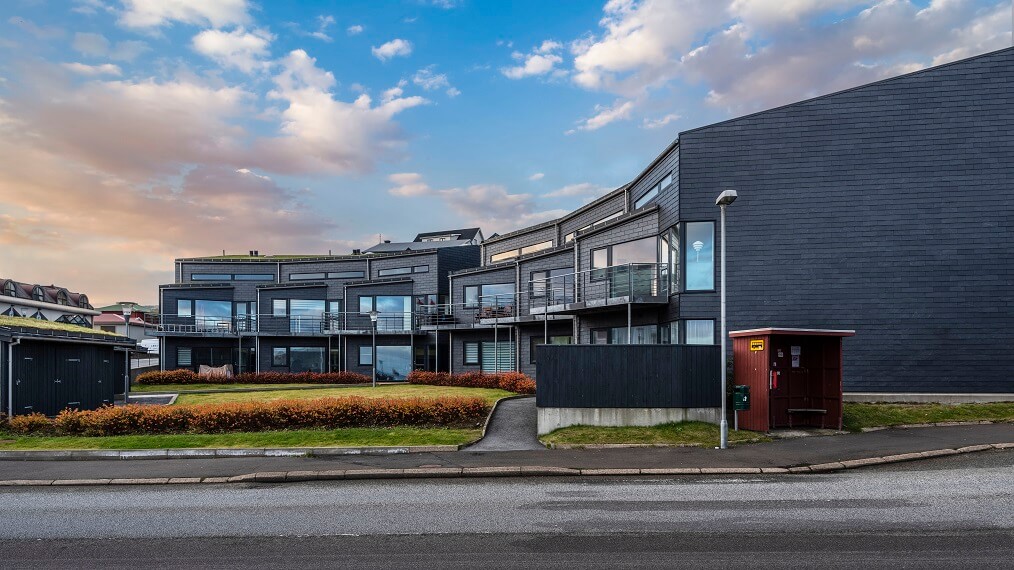 Private house – Tórshavn
This house has been strategically designed to make the most of natural light, with West and South façades mixing natural slate with floor-to-ceiling windows. Rocks and trees surrounding have been preserved to add to the natural aesthetic.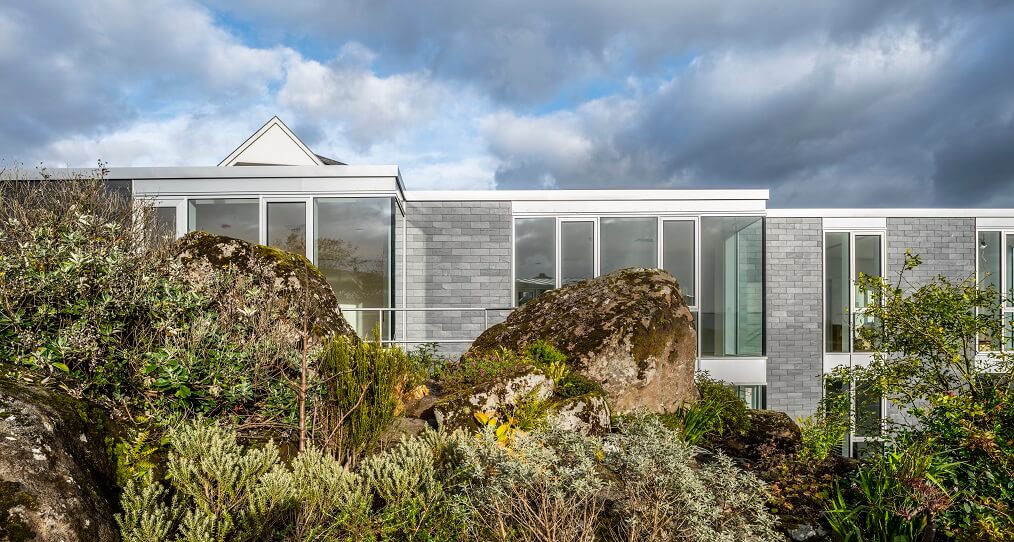 Private House – Norðurhædd
One of the best views of the longest fjord in the Faroe Islands. This CUPACLAD façade protects the house's inhabitants from humidity and the harsh weather conditions.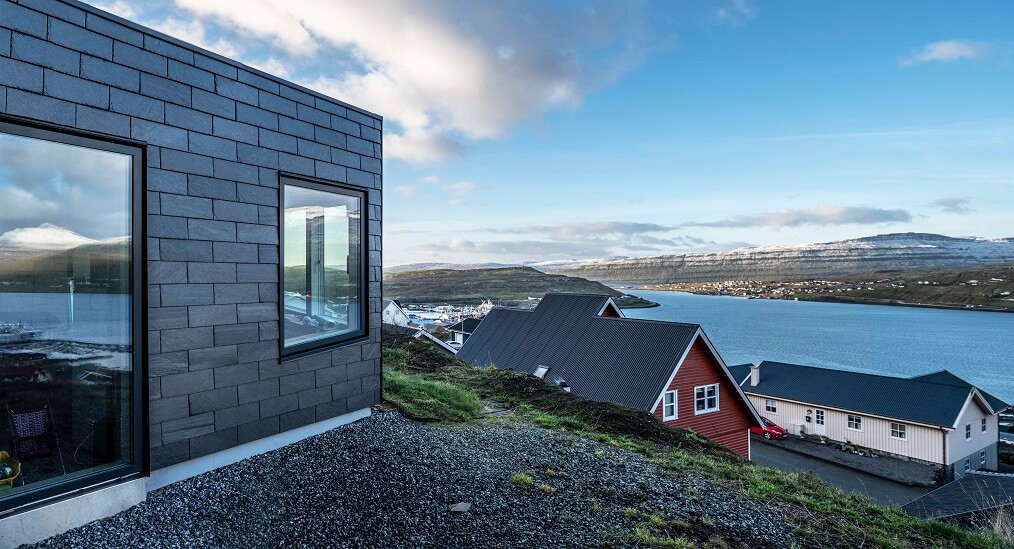 Music School – Tórshavn
The Kontrast architects acknowledged that the decision of using natural slate on this Music school was quite easy, "it has a quality expressing excess and elegance".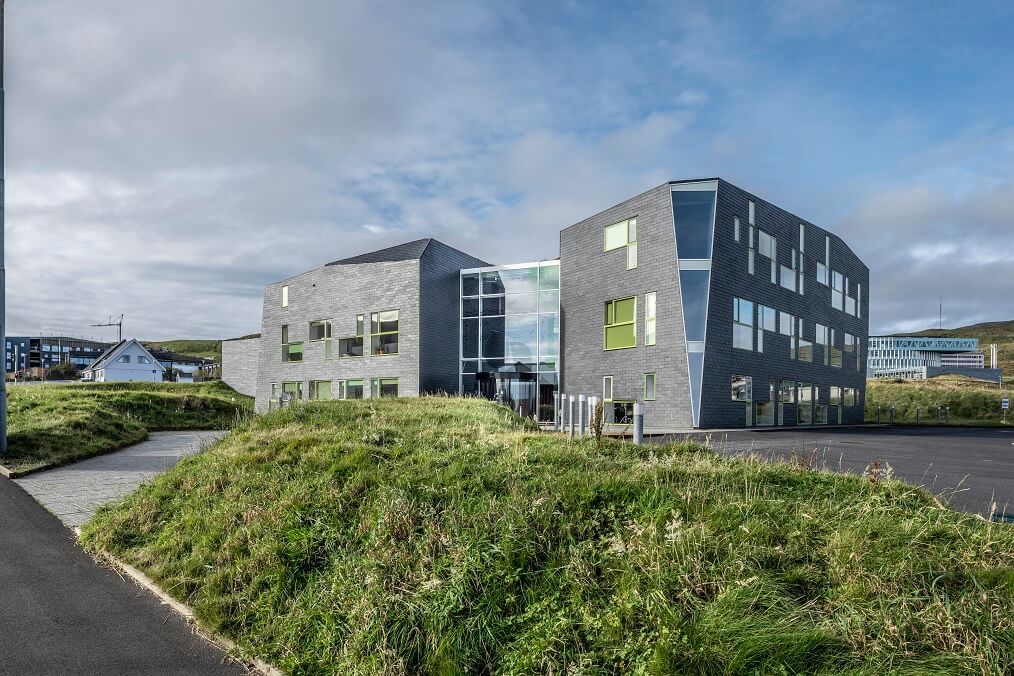 Bank Nordic – Klaksvík
A sober yet contemporary design for the bank branch of the village. The balance of the rectangular natural slate pieces contrasts with the irregular conception of the building but the finish is really pleasing to the eye.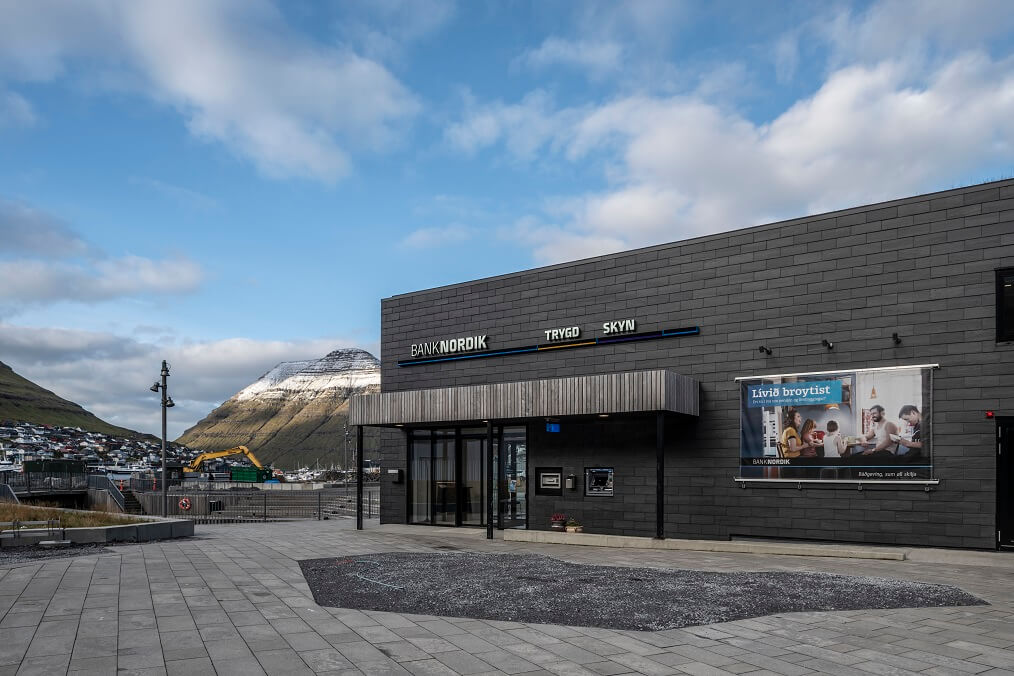 Residential building – Landavegur
Landavegur is one of the biggest residential complexes in the islands and probably the most striking. The yellow balconies stick out from the main natural slate façade.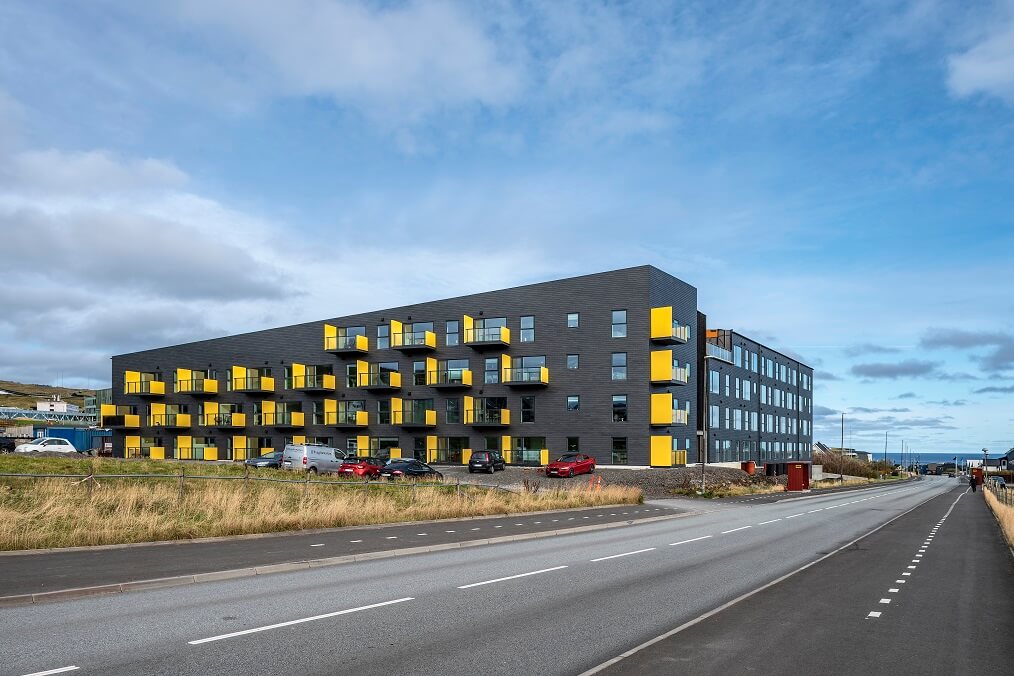 Private house – Myllutjørn
The local rules would not allow a larger footprint for the house, so the architects had to rack their brains to maximize the benefits of 60m2 of each floor. Outside, they wanted an eye-catching volume, so they went for a natural slate façade.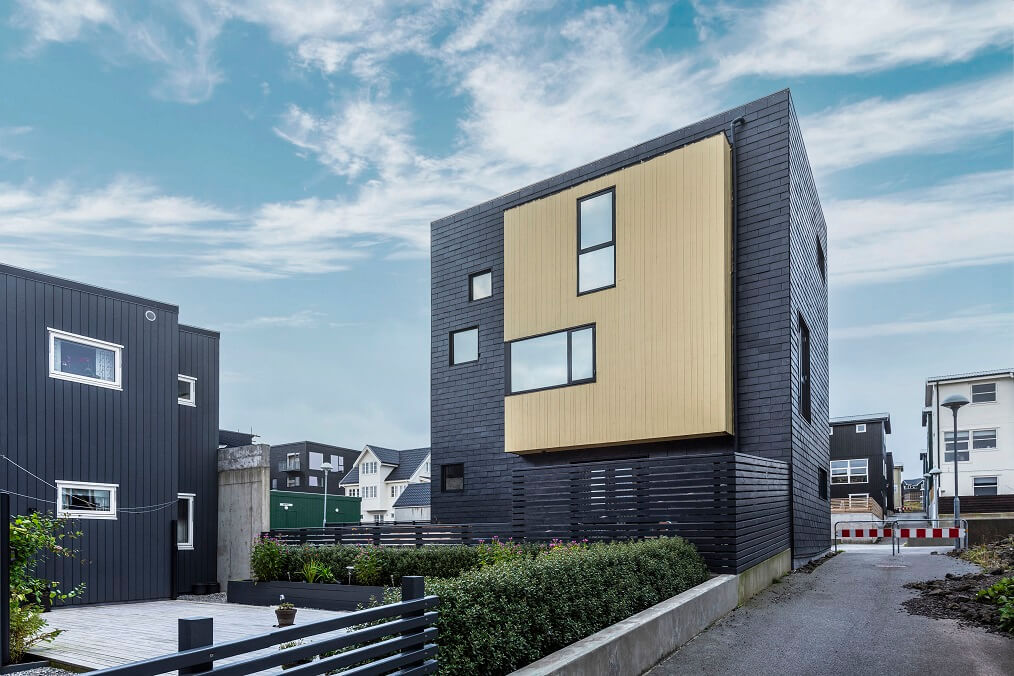 These are some of the best CUPACLAD projects in the Faroe Islands. Now you have seen what can be achieved with natural slate, do you need help designing your next project? Contact us!