Cupaclad
25/05/2018
CUPACLAD® Design SHIELD: combine different materials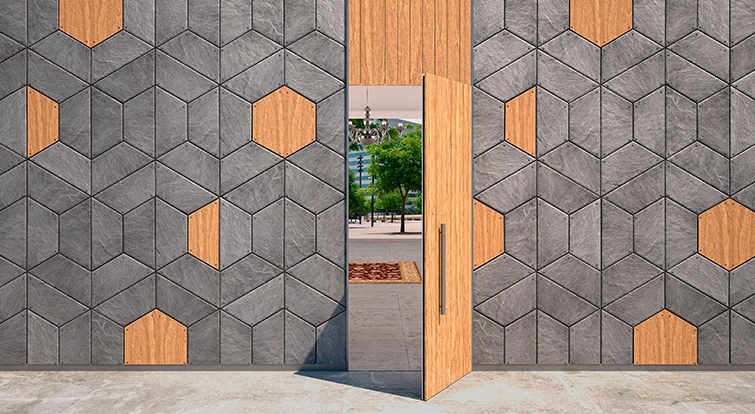 This ventilated facade concept combines natural slates with other materials like wood, metal, or coloured ceramic. The result is an original design that overlaps hexagons to evoke a feeling of fluid strength.
CUPACLAD Design SHIELD uses 60×26 cm isosceles trapezoids installed with visible stainless flat headed screws, specially designed for natural slate by our R&D team.
TECHNICAL DETAILS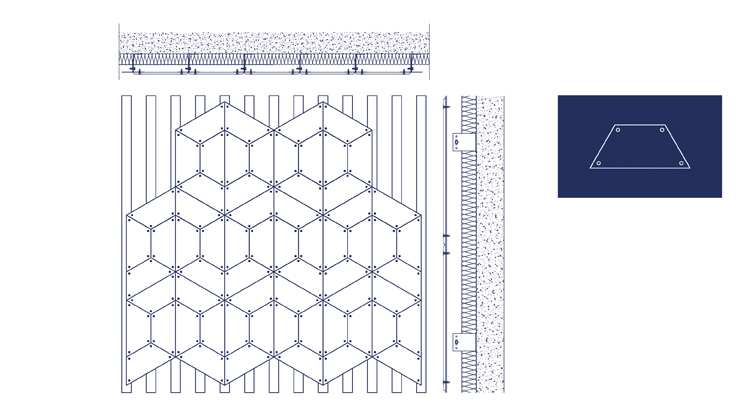 | SLATE SIZE | FORMAT | NOMINAL THICKNESS |
| --- | --- | --- |
| 60X26 cm | Isosceles Trapezoid | 7,65 mm |
| NUMBER OF SLATES/M² | WEIGHT/M² (slate) | FIXING |
| --- | --- | --- |
| 8.33 | ≤25 kg/m² | Visible, stainless flat heads screw. |
WHAT IS CUPACLAD DESIGN?
CUPACLAD Design emerges as a challenge to avant-garde architects and tries to surprise them with endless possibilities of facade designs in natural slate.
The CUPA PIZARRAS R&D team is constantly creating new stunning finishes by combining different profiles, sizes and configurations.  Each is inspired by current architectural trends and designed to maximise the natural beauty of slate.
All CUPACLAD Design concepts are perfectly achievable by using a specially selected CUPA PIZARRAS tectonic and highly durable natural slates.
Are you a building professional interested in using this new concept in a building?  Don't hesitate to contact us if you have questions or need any technical details. Write to us to: cupaclad@cupapizarras.com.