Projects
16/10/2018
Floors Farm: Building houses that last for generations with HEAVY 3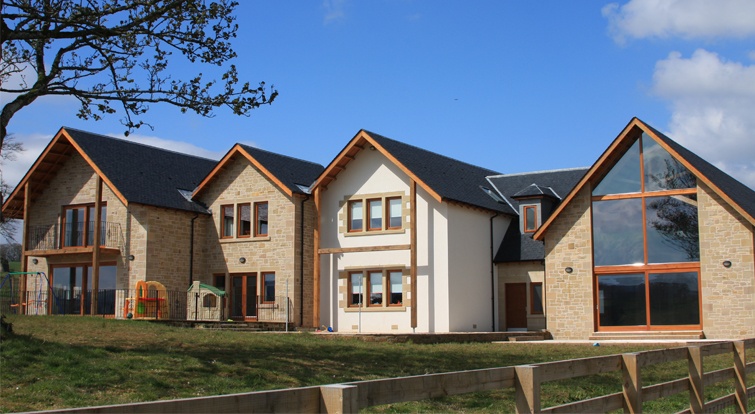 Scottish homebuilder David Byson designs homes for those that want a brick-and-mortar legacy that will last for generations to come.
The roof plays a crucial role as first line of defence against the environment, and no other roofing product matches the durability and resistance of natural slate.
Having purchased a dilapidated farm building along with 100 acres of farm land in a prime greenbelt area, owner and director of bespoke homebuilder Burnhead, David Bryson's worked closely with the local authority to achieve the planning permission required to design and build this bespoke rural countryside development.
Known as Floors Farm, Phase One, now complete, comprises three luxury, detached homes. Phase Two, a further two luxury detached homes and Phase Three, an additional 12 houses, is due to break ground later this year. Secured and gated, the development has its own access road and is landscaped to include a small and larger lake, which meet and form part of the site's wildlife habitat requirements.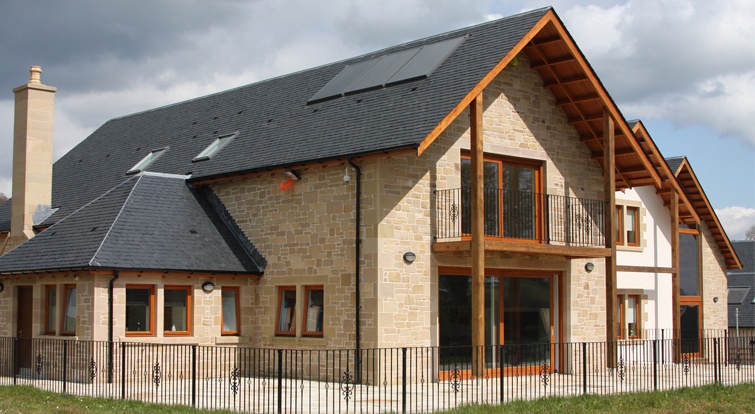 Designed and built by Mr Bryson, the one and three quarter-storey properties echo the traditional architectural style of the area, nestling comfortably in idyllic rural surroundings. Ranging in size from 4,000 to 12,000 sq ft, all houses combine natural slate roofs, sandstone facades and timber in both doors and window frames.
As Burnhead's David Bryson explained:
We want to build houses that last for generations and take great care in sourcing the very best building materials that both meet, and often exceed, the building standards set by local authorities – only employing local master craftsmen to achieve the high level of finish we require.

For the roof, our priority was to source a good quality natural slate that would last and withstand the inclement Scottish weather conditions. Following extensive research, we discovered and specified Cupa Pizarras Heavy 3.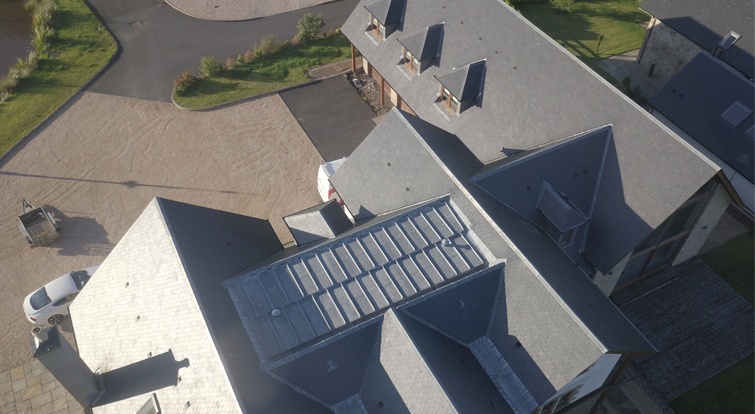 We had never used Cupa Pizarras slate before but having completed this project successfully, we have been using Heavy 3 ever since on our other building projects. Yes, it's a cost-effective option but the real reasons for specifying Heavy 3 are aesthetics, quality and longevity. It's also a good choice for when we need to repair and replace traditional roofs in the area, as there are many visual similarities between traditional Ballachulish slate and Heavy 3.

On the houses built to date, over 125,000 Heavy 3 slates (7-8mm) have been installed and we plan to use the same slate on the 12 houses yet to be built.
Burnhead manufactures its own bespoke timber frames on site and for the roof build-up, sarking boards were fitted to the roof rafters with a breather membrane on top. The Heavy 3 slates were then nailed directly to the sarking boards using copper nails. Copper was selected for its anti corrosive benefits, again to ensure the building's longevity.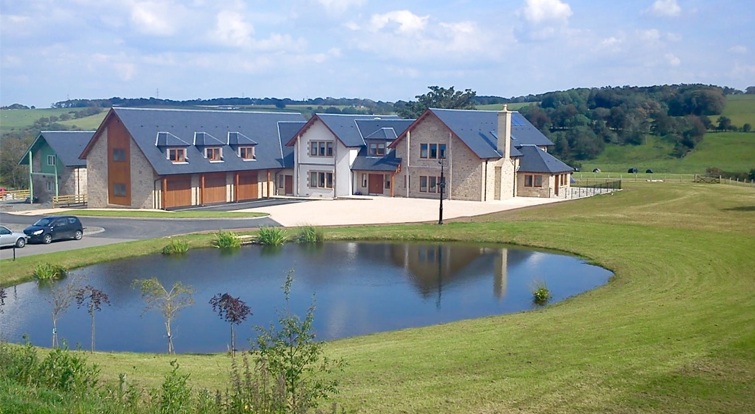 The roof was finished with expert leadwork detailing and, having been designed as low energy homes, solar panels are incorporated into each roof. Further low energy measures have also been built-in including ground source heat pumps, heat recovery ventilation and high levels of insulation.
Mr Bryson, very satisfied with the support received from CUPA PIZARRAS through the building process, added:
The technical team has been amazing; really supportive answering any questions we had about the design and different material options, help with quantifying and any detailing that was required.