Cupaclad
The residential complex Fyrtårnet, the first CUPA PIZARRAS natural slate façade in Denmark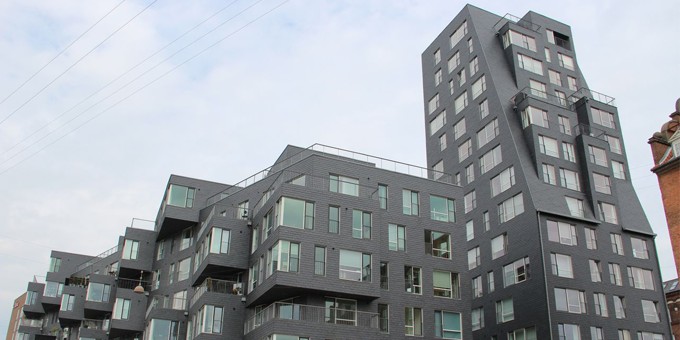 Fyrtårnet (The Lighthouse) is the first CUPA PIZARRAS natural slate façade in Denmark. Located on Amerika Plads in Copenhagen's Open Harbour, this residential complex, designed by Danish architects Lundgaard & Tranberg, used our innovative installation system CUPACLAD®, made for natural slate ventilated façades.
Our CUPA PIZARRAS natural slate creates a unique and modern look, integrating The Lighthouse as a part of its historical surroundings.
NATURAL SLATE VENTILATED FAÇADES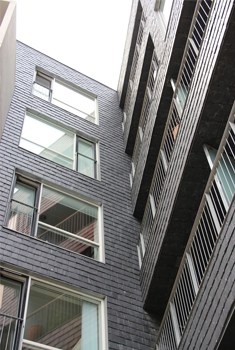 With CUPACLAD®, natural slate can be horizontally overlapped. Our invisible installation system uses CUPA patented screws to fix natural slate tiles to the façade. Natural slates are laid horizontally and easily fixed by concealed screws, reducing installation times.
CUPACLAD® exclusive installation system is similar to our invisible system, but uses CUPA PIZARRAS patented anchors. The contrast between both elements, metallic anchor and natural tile, enhances the beauty of our unique slates.
CUPACLAD® is also compatible with the traditional hook installation method, that gives any façade a timeless look.
A UNIQUE ARCHITECTURAL EXPRESSION
The Lighthouse is an open block of 4-6 storeys and a tower of 15 storeys and 48 metres. This residential complex, which contains 89 apartments, marks the entrance to a dense urban quarter of new projects, placed among historical warehouses. Pronounced dormers and bays, together with characteristic sloped rooflines, give the project its unique architectural expression.
The residential complex is covered with CUPA PIZARRAS natural slate shingle cladding, which changes with the weather and light.