Projects
06/11/2018
Over 290,000 CUPA PIZARRAS roof slates for new Scottish town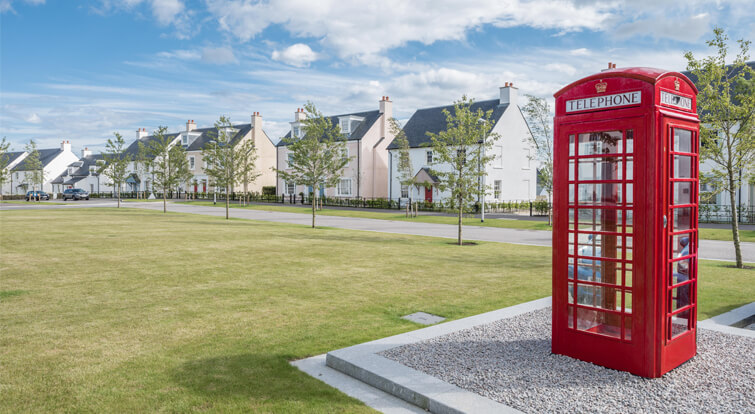 Inspired by the aesthetics of the historic towns of northeast Scotland and the performance of traditional Scottish slate roofing, CUPA PIZARRAS' Heavy 3 slate has been specified and installed by three housebuilders for the roofing at Chapelton – a new £1 billion town being built from scratch near Aberdeen.
The largest of three new large-scale community developments under construction in Scotland at present, Chapelton will eventually deliver 8,000 new homes and feature seven pedestrian-scaled neighbourhoods including schools, shops, offices and parks.
With Phase 1 now complete, and Phase 2 underway, over 290,000 Heavy 3 slates have been used across the 126 units built to date.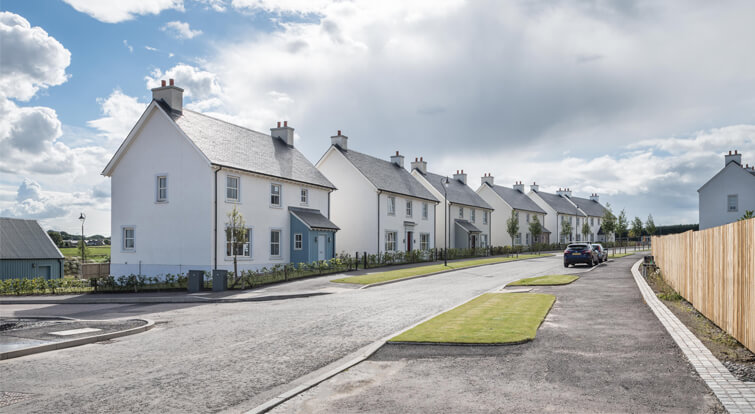 The development is a mix of two, three, four and five-bedroom houses as well as two-bedroom flats designed in a Georgian architectural style, which is consistent across the community.
The houses are built with timber kit and blockwork construction, featuring a light, off-white render finish and timber windows; all have CUPA PIZARRAS' Heavy 3 slate installed to the roof.
As Colin Anthony, Commercial Manager at sustainable property development company ZeroC, explains:
The project is being led by landowner Elsick Development Company (EDC) who, in conjunction with leading urban planners, architects and engineers, developed a stringent design code for the site. This stipulated the use of suitable Scottish-style slate and Heavy 3 fits the bill perfectly as it ensures a high quality specification and offers longevity – we use it a lot as it's such a reliable product.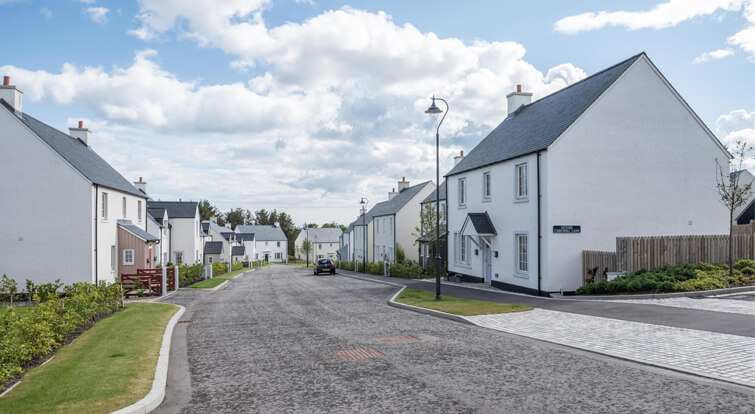 Dark grey in colour, the extra thick 7-8mm Heavy 3 replicates the characteristically thick, slightly gritty Ballachulish slate convincingly and includes the iron pyrite also found in the slates from the Scottish quarries.
Installer on the Chapelton site for all three developers – ZeroC, sister company Brio Retirement Living and A & J Stephen (Builders) Ltd – Steve Scott, Managing Director at Forster Roofing comments on the CUPA PIZARRAS Heavy 3 product:
We are long time advocates of Heavy 3. For this project, it was selected for its heavier weight. Each roof sub structure is timber sarked with a felt layer and the Heavy 3 slate double nailed and finished with zinc ridging and flashing.
For some of the homes constructed by contractor A & J Stephen (Builders) Ltd, a sustainable element has been incorporated to the roof design as Commercial Manager John McCormack explains:
One of the project's aims was to enhance sustainability and to generate improved energy efficiency for homeowners, part of which has been achieved with the integration of solar PV within the Heavy 3 slate roof.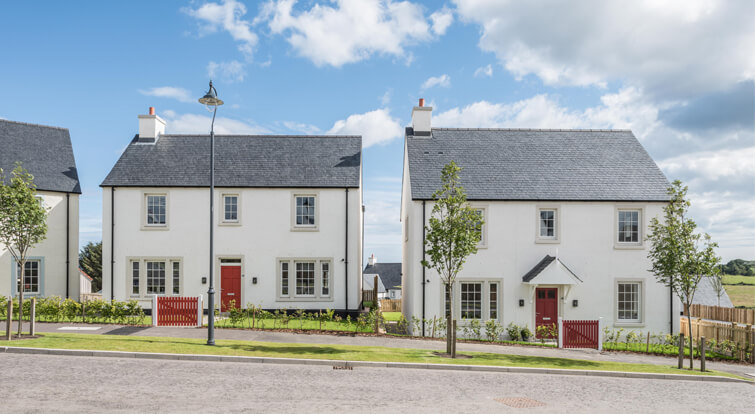 The development is already gaining recognition as ZeroC and Stephen Scott have been awarded with a special commendation for their work on Chapelton at the Homes for Scotland Awards for Private Development of the Year – Medium, and Perth-based housebuilder Stephen, also being presented with the 'Private Development of the Year' (small) Commendation at the Homes for Scotland Awards 2018.