Natural slate
The 6 steps to roofing slate production process
Have you ever wondered where do slate roof tiles come from? From quarry to roof, natural slate goes a long way. Its manufacturing process is probably much more handcrafted you have ever imagined.
Don't miss these 6 steps showing how natural slate is produced!
NATURAL SLATE PRODUCTION IN 6 STEPS
Before quarrying, the expert geologists must carry out several surveys and sample testing in order to study the best areas to extract. Extraction begins only when the quality and purity of the slate rock has been verified.

Quarrying. The slate is sawn from the quarry face in large flat slabs using a diamond beaded steel cable. After that, slabs are carefully cut into smaller natural slate blocks, loaded into trucks and transported to the factories next to the quarry. The transformation process begins.

Factory sawing. The slate blocks are selected in accordance with their quality and potential by the production team, and sawn into different sizes.

The next step is shaping. These smaller blocks are then hand split one by one by skilled craftsmen into slates of the finished thickness. This step is probably much more handcrafted than you could ever imagine!

Then, the corners of each slate are beveled by a machine in order to give them the traditional chamfered edge and exact finished size.

Once the processing process has finished, the natural slates undergo final inspection and are sorted based on their quality. After classification the slates are counted and packaged on wooden pallets for storage and subsequent delivery.

A label is placed on each pallet with a description of the slate (quarry and plant of origin, format, thickness…)
MAKING THE DIFFERENCE IN SLATE PRODUCTION
CUPA PIZARRAS, the world leader in natural slate, goes beyond the regular slate production process. Our exhaustive control of the whole process enables us to offer the widest range of slates exceeding all the international quality standards.
On the same day the pallets are packaged, they are sent to our central warehouse where they are given another label with a bar code to guarantee the traceability of each item from the place of origin to the final destination.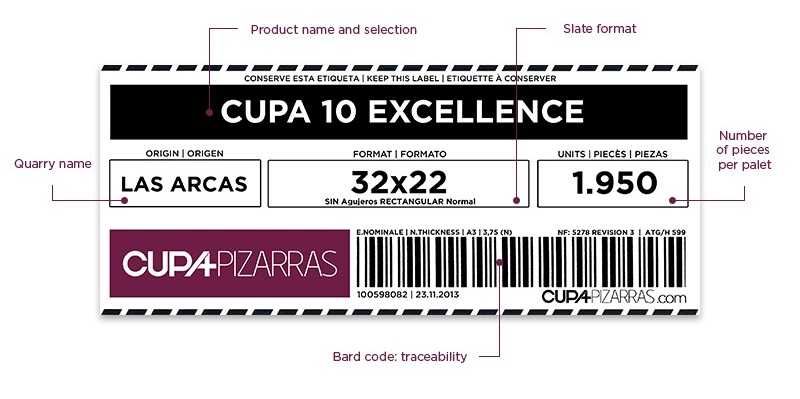 Unlike other brands, CUPA PIZARRAS produces and transforms its natural slate in its own quarries and units, enabling them to control product quality from source.
Get to know here more information about our traceability system.
OUR ENVIROMENTAL COMMITMENT
Slate is subject only to extraction and working processes and does not need any additional treatment. The simplicity of its production process, without chemical products, makes it one of the most sustainable product for any project.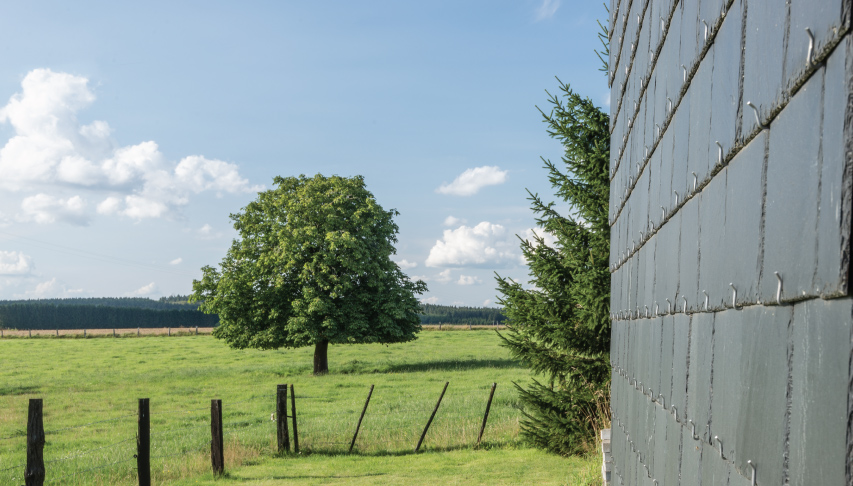 Throughout the process involving the extraction and processing of the slate, water is used as a coolant and base material for removing rubble. Nevertheless, this water is recycled and purified in a closed circuit to prevent such a precious resource from being wasted.
Moreover, we are leaders in our initiatives to restore quarries: once the reserves of slate have been exhausted, the quarry can be restored by hydroseeding native plants, ensuring natural recovery of the local flora and fauna.
For further information about our environmental policies, download our general brochure.