Projects
3 rustic style houses covered with natural slate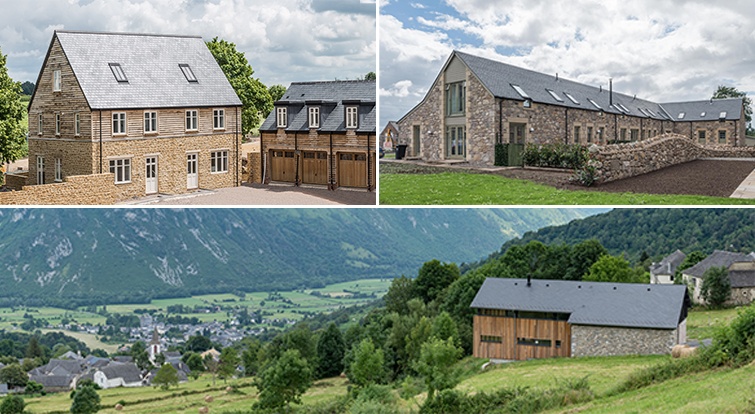 The rustic style is fashionable. It is present in projects of all kinds, throughout the world, conferring a unique identity but always preserving the charm of traditional architecture. In this architectural trend, natural materials, such as natural slate, stone or wood, are the real protagonists, generating a home environment of great serenity.
Rustic houses usually are single or two- story and have garden areas outside. They are perfect for a weekend away, holiday or regular residence. The magic and warmth they give off make them the dream of many people, who seek in them a haven of peace and disconnection. In this selection of 3 houses we show you why rustic houses are in vogue.
If you like traditional architecture, in England you will find examples everywhere. One of them is this exclusive residential area located in Merriot (southeast of England).

In this renovating project, innovative design homes in natural slate and stone are combined with typical mills of the area. These unique houses are usually composed of three and four-bedroom executive properties. They cost up to half a million pounds. In short, these cozy homes located in the English countryside are a dream for those who enjoy the countryside and fresh air.

We continue daydreaming with ideal houses, but this time, we cross the border again and we go to the French Pyrenees. It is in this privileged setting, of mountains and green meadows, where this house that simulates a barn, is located. In this project rustic style and innovation go hand in hand.

Besides, the wood and the stone focus all the attention on the facade, being the natural slate the protagonist on the roof. But striking home not only can boast an enviable style and location, but also benefits from the efficiency of thermal panels in natural Themoslate® slate. Present at 10% of the roof, they are capable of feeding a 500 liter hot water tank.

Who has never wanted to get lost in the landscapes of Scotland? For this we travel to Blairlogie, a quiet village of only 58 inhabitants that houses warm homes like the ones in this project, where old houses and granaries have been replaced by 11 impressive rustic houses.

These 3-rooms individual residences attract attention due to the sophistication provided by materials such as natural slate and stone, which are perfectly integrated into traditional Scottish architecture. We have no doubt that this residential area is the perfect place to disconnect from the busy crowds.
Do you also want to design a rustic home covered with natural slate? Do not hesitate and contact us. Our team of experts will be pleased to answer your questions.