Projects
CUPA PIZARRAS natural slate renovates a French style building in Copenhagen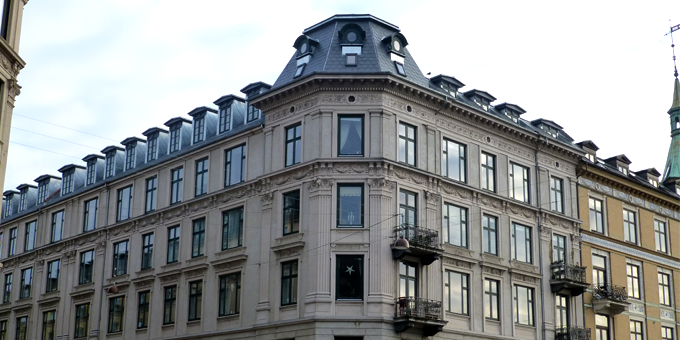 CUPA PIZARRAS natural slate was the perfect choice for roofing rehabilitation to this French style building in Østerbrogade, one of the main shopping streets in Copenhagen (Denmark).
The mansard roof was renovated with CUPA 12, a dark grey slate with thin laminations and a smooth surface.
This building topped with a mansard-style roof needed to be refurbished. Falk Tag & Facade has installed CUPA natural slate -Spitzwinkel format-, a solid shape with rhombic faces fixed with invisible nails.
Roofers used natural slate of a highly regular thickness and great flatness, easy and quick to lay.

The mansard roof with dormer windows has recovered its original look. CUPA 12 emphasizes the large façade of the property set among historical town houses in one of Copenhagen's most desirable areas.
The contrast between the black roof and the white façade gives the building a touch of modernity.
Natural slate sophistication, resistance and durability give the surface involved a certain prestige, guaranteeing a far longer service life.
The reliability and beauty of the products make it the ideal solution for architectural purposes. In this case, a mansard roof is one of the hardest types of roof to repair.
Falk Tag & Facade did an excellent job installing a new natural slate roof.

Located in the northern part of Copenhagen, Østerbrogade has many old and fine buildings that are also well preserved.
The style takes inspiration both from Danish houses and French architecture.