Cupaclad
Tips to optimize the energy efficiency of your home
Do you want to save energy at home? The first thing you should take into consideration is how to improve your energy efficiency. You'll need to get your home to use less energy or use it better.
Ideally, every single house should have been initially designed with the best energy optimization. Nevertheless, many homes that have been already built are not as efficient as they should. Fortunately, there are many ways to reduce energy consumption, and the first step is to make improvements in energy efficiency.
Find here some tips to help you to improve it:
Check your roof

The roof insulation is vital to prevent water leaks when it rains, but also ensures good insulation. Some materials used for indoor placement have no proper thermal insulation.

However, natural slate stands out over other materials because its heat transfer coefficient is very low. Besides, if you mix it with an air chamber or insulation materials, the thermal conductivity is much lower so the insulation and energy savings will be much higher.

Look for the highest thermal inertia

The thermal inertia is the ability to retain the thermal energy received and release it gradually. Therefore, the more inertia a house has, the longer it will remain cooled or heated. It helps to reduce the need for air conditioning, the energy consumption and pollutant emissions.

Improve your home thermal insulation

Did you know that a properly insulated home can save up to 30% of the energy consumed for heating or air conditioning? Thermal insulation is the most effective measure for energy saving at home because it helps minimize heat loss in winter and summer gains.

Among all the solutions to thermally insulate a building, the most effective system is the rainscreen cladding system: when combined with an exterior insulation system, it gives the building a multitude of advantages in terms of thermal and acoustic insulation, eliminates thermal bridges and avoids problems condensation.
THE PERFECT RANGE OF RAINSCREEN CLADDING SYSTEMS
The rainscreen cladding system consists of a load bearing wall, a layer of insulation and a covering material fixed to the building with the help of a supporting structure.
This system creates a gap between the insulation and covering material called an air cavity. For optimum performance the system must allow constant air circulation through the cavity creating a natural convection process.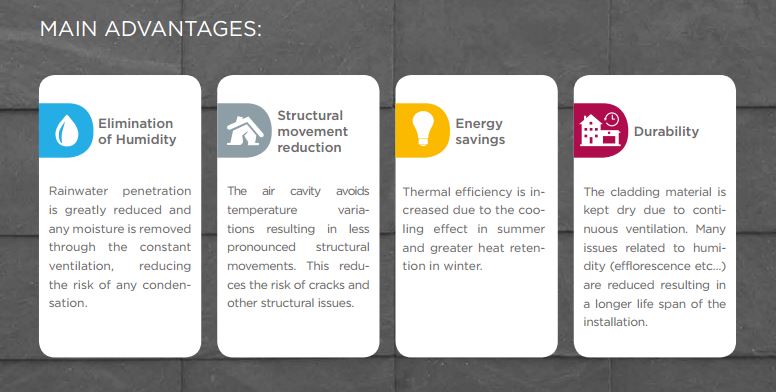 Besides its countless functional advantages, there is a full range of rainscreen cladding systems combining efficiency and contemporary design.
It's called CUPACLAD®, the ventilated façade systems offering a revolution in cladding applications for natural slate. They are lightweight, quick and easy to install and they adapt to any architectural design: new or renovation projects.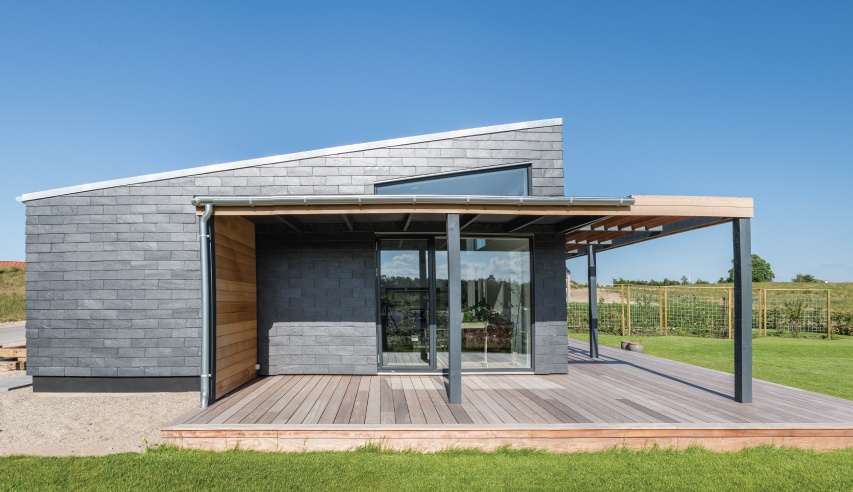 CUPACLAD® systems offer a design to suit each need and are compatible with any type of insulating material.
Thanks to CUPACLAD®, you won't have to choose between efficiency and design. It's an elegant, competitive and completely sustainable solution that fits perfectly with any façade design.
Find out more benefits of our rainscreen cladding systems in the CUPACLAD general catalogue.