Interview
03/11/2020
Joseph Jenkins: "Today, slate is being installed coast to coast"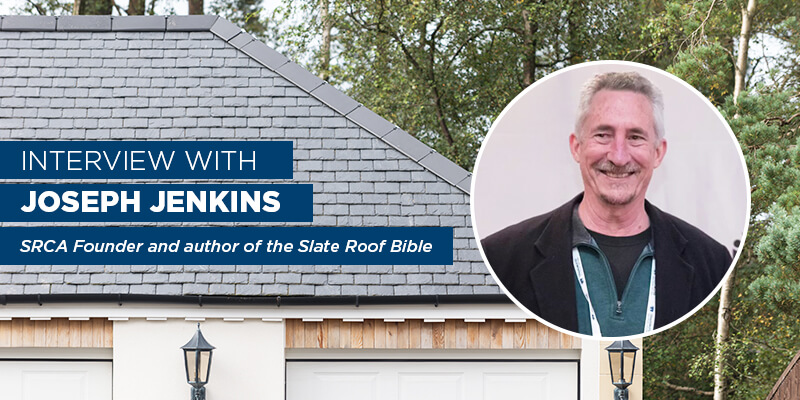 Joseph Jenkins is probably one of the most-informed men in the US on natural slate roofing. His book 'Slate Roof Bible' has won 10 awards and brings together decades of experience. The industry has changed a lot and it's easier to find good and professional slate roofers in the US nowadays. As he explains in this interview, slate roofing in the USA is undergoing a resurgence.
CUPA PIZARRAS – You climbed on your first slate roof in 1968. How the industry has changed since then?
Joseph Jenkins – Well, a lot has changed in the past 52 years since I first started working on slate roofs. OSHA, for example, the safety regulatory agency in the US was not a factor back then. Also, the old timers who had installed slate roofs, like their fathers did before them, were disappearing in the late 1960s as the slate industry became overshadowed by fossil fuel roofing products like asphalt shingles. Slate quarries had gone out of business left and right. Very few contractors had a slate hammer or even knew what one was. I had to buy my tools in yard sales and auctions back then. They were considered antiques. Today, all that has changed. Slate roofing is undergoing a resurgence.
CP – Environmental care is one of the main concerns nowadays. Does the costumer appreciate the value of a natural product like natural slate? Do you think that this is an advantage against artificial roofing products?
JJ- Natural quarried slate roofing is the most environmentally friendly roofing material, in my opinion. When I was a kid, I worked on all types of roofs: asphalt, wood, built-up hot mopped, metal, brush-grade single ply, and slate. I was impressed with the natural characteristic of the stone roofing. No chemicals, no fumes, no smell, no off gassing, no plastic buckets – just an ingenious natural roofing material made by mother nature. That's what drew me to discontinue other contracting jobs and specialize in slate roofing in 1980. I wanted to work with natural materials.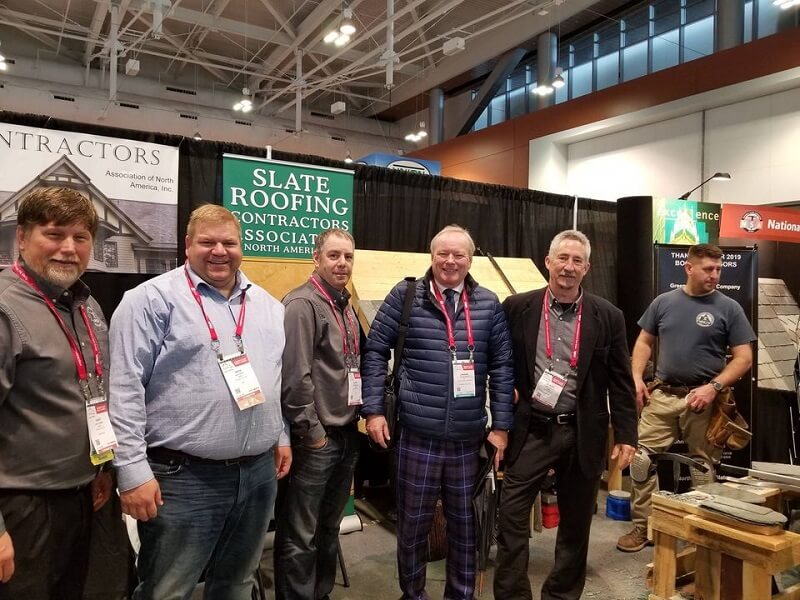 CP – In which areas of the United States could we find the most houses with natural slate? Why?
JJ – Most of the slate roofs in the US are in the northeast. That's because most of the quarries were located there. Also, back in the late 1800s and the early 1900s, the slate was primarily shipped via train, so wherever there were good train routes, slate roofs sprang up, even when no slate quarries were nearby.
Today, slate is being installed coast to coast, primarily on high-end residences, institutional buildings, and churches, but also when an original slate roof finally wears out on a house and the home owner is smart enough to replace it with a new slate roof.
CP – France, Belgium or the United Kingdom have a longer history of slate roofing traditions. Is it easy to find good and professional slate roofers in USA?
JJ – It is becoming increasingly easier to find good and professional slate roofers in the US. We lost most of our craftsmen about the same time I got involved in the trade. My mentor was 63 when he hired me in 1968. He retired a few years later. We had a dearth of slaters for a couple of decades after that. Now, however, we have trade organizations such as the Slate Roofing Contractors Association (SRCA) that promote the trade, provide training opportunities, and promote good practices. That's a big help.
CP – What is the perception of Spanish slate in the American Roofing Industry?
JJ – Spain produces some beautiful slate. It is considered the largest roofing slate producer in the world. Spanish slate is becoming increasingly popular in the US. It started off slowly in this country because poor quality slates were being shipped over from Spain a couple decades ago, such as slates with leaching pyrites that ran red rust stains down the black roofs. This problem seems to have been largely rectified.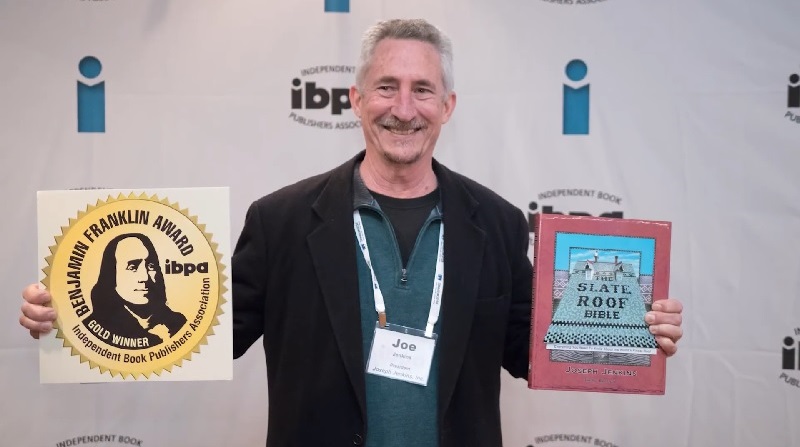 CP – The Slate Roof Bible has already reached the third edition. What can we find in this book?
JJ – The 3rd Edition of the Slate Roof Bible, published in June of 2016 in hardcover and full color, has 374 pages and nearly 800 Illustrations. The book won 10 book awards! It reflects more than a decade of additional experience being passed on to the reader, including a lot of info about slate from around the world, as well as other types of stone roofing, such as quartzite and phyllite. Also added are SRCA installation guidelines as well as SRCA repair and restoration guidelines, and lots of other new material.
CP- You founded the Slate Roofing Contractors Association of North America. What's exactly the role of the association within the industry?
JJ – The Slate Roofing Contractors Association of North America, Inc. was originally formed in Pennsylvania in 2005, then incorporated as a non-profit trade association in 2008, with members on three continents. The SRCA is an AIA Continuing Education Provider, a participating member of the International Federation for the Roofing Trades based in Germany, and an Affiliate Member of the National Roofing Contractors Association. The SRCA has published natural quarried slate roofing installation guidelines (in both English and Spanish), freely available to the public, and is developing slate roof installation, repair, restoration, flashing, and other training programs. We share our knowledge and camaraderie at scheduled conferences, and we volunteer labor and materials at non-SRCA conferences, such as the International Preservation Trades Workshops, where we installed new slate roofs in St. Clairsville, Ohio and in Frankfurt, Kentucky.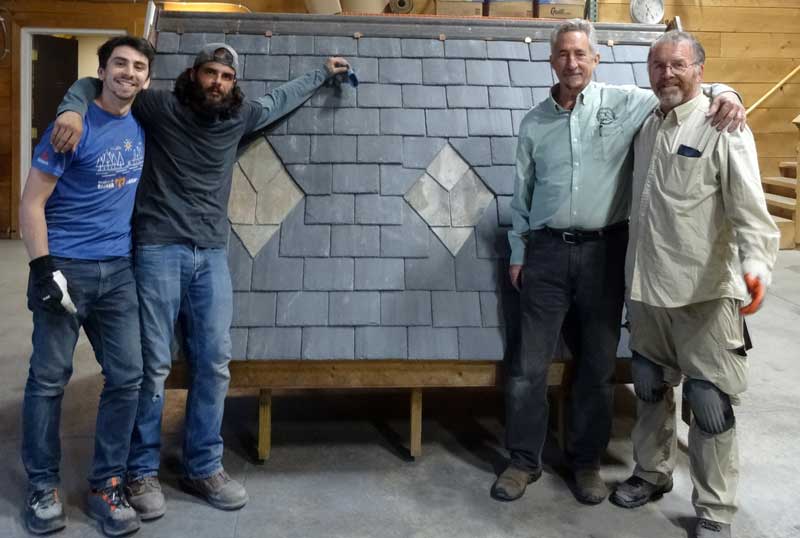 We organize slate roofing professionals and other contractors and make them available to the public via our Membership Listings, Source Lists, and Contractor Profiles. We are always welcoming new members! Our membership application, available for download at SlateRoofers.org, is easy to fill out. The organization has been great for networking among slate professionals around the world. Our dues rates area very reasonable, and our welcome packet is very generous. Plus you get a wall plaque when you join and are located in the United States.
I'm looking forward to my next trip to Spain (currently not scheduled, unfortunately) where the wine in fantastic, the food is fabulous, the women are beautiful, the night life is great…and the slate is phenomenal!

Since you are here, why no listen to the experts in the natural slate field?
We have some other interviews available for you!