Slate is a product with unmatchable technical properties that adapts to any project, always providing considerable added value.
It gives any roof or facade an inimitable, timeless, unchanging appearance. Its elegance and personality confer a unique character.
If you add our exhaustive quality control, our traditional know-how and the constant search for new, more efficient and sustainable production processes to its extraordinary natural properties, you get a truly unique material.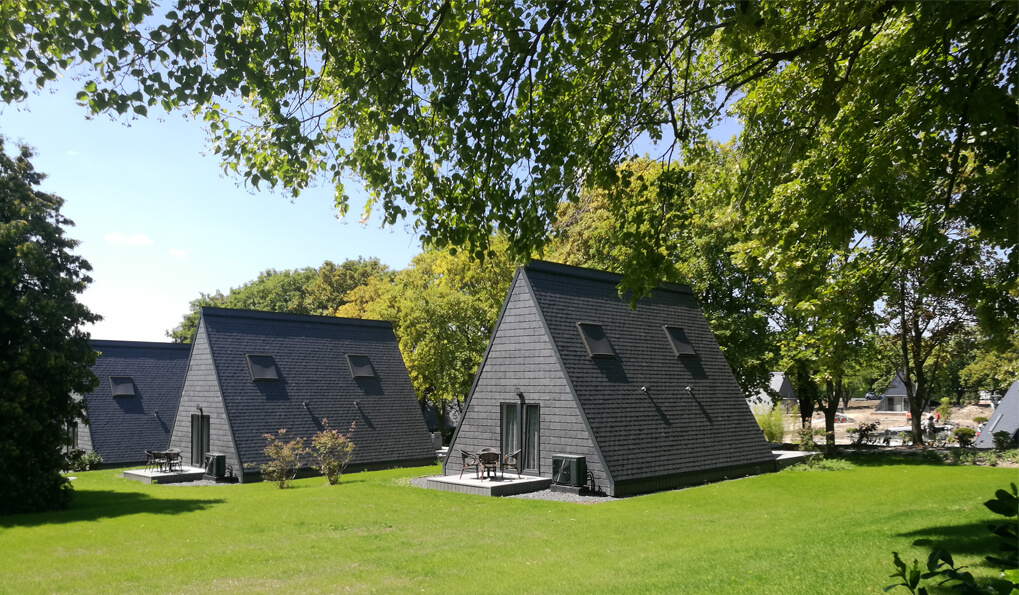 Each slate is unique. Its texture tells us the story. Created by all the natural forces and made up of many different minerals. No other artificial alternatives could compare with a product which has been molded by nature for over 500 million years.
With a durability of over 100 years, slate is the most resistant material used for roofing. Natural slate is a metamorphic rock that, unlike artificial products, maintains its colour and properties unalterable through time, with no need of maintenance.
By being 100% natural, slate is the roofing material with less environmental impact. Each slate is handcrafted by our skilled splitting craftsmen with no chemical products or additional treatments added.
Slate is capable of enduring extreme temperatures, difficult snow formation, fire-resistance as well as being fully waterproof. Slate guarantees a perfect performance in any weather condition.
Slate has endured the test of time. Its unparalleled character and durability makes this material ideal to preserve the aesthetics appearance and personality of any architectural project.
Every single test carried out confirms that natural slate's properties are unreachable for other materials. Its elegant appearance remains intact during its entire lifespan and its performance is unrivalled among the alternative roofing and façade products.
Using slate in architecture has endless design possibilities. It is very versatile and can be used to cover any shape of roof or façade. This versatility allows builders to incorporate intricacies in their design that would be impossible to achieve in other materials.
Roofing projects
More than 250 roofs are made per day around the world with our slates. CUPA PIZARRAS natural slate is greatly valued by architects and roofers and has been selected for all types of projects, including the renovation of some of the most important monuments in the world.
Take a look at our photo gallery of some of the construction projects carried out with our slate.
Slate cladding projects
While natural slate has always been a popular roofing material, it also makes an efficient and striking cladding solution with a wide range of design possibilities.

If you have any questions, our experienced team on slate is at your disposal.