Cupaclad
The 5 best CUPACLAD projects of 2014: natural slate for contemporary architecture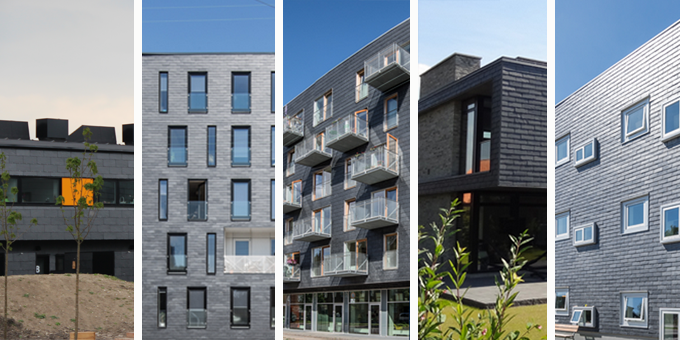 CUPACLAD™, ventilated facade systems with CUPA PIZARRAS natural slate, offers new design possibilities for contemporary architecture.
We are delighted to review the 5 best CUPACLAD™ projects of 2014, a demonstration of beauty, sustainability and quality.
ALMENBOLIG+, AFFORDABLE HOUSING CONCEPT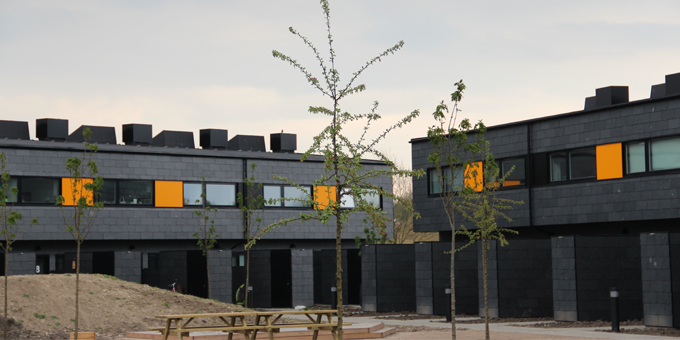 CUPACLAD® was chosen for AlmenBolig+, an affordable housing concept in Denmark. The project, 400 housing units on sites in and around Copenhagen, creates a modern look to these cladding facades, with a total surface of 75,000 square meters.
ONV Arkitekter and JAJA Architects in collaboration with Bascon and ScandiByg designed AlmenBolig+, 8 housing typologies based on a prefab basis module of wood surrounding a central core.
Read more about this project.
TANDRUPKOLLEGIET, YOUTH HOUSING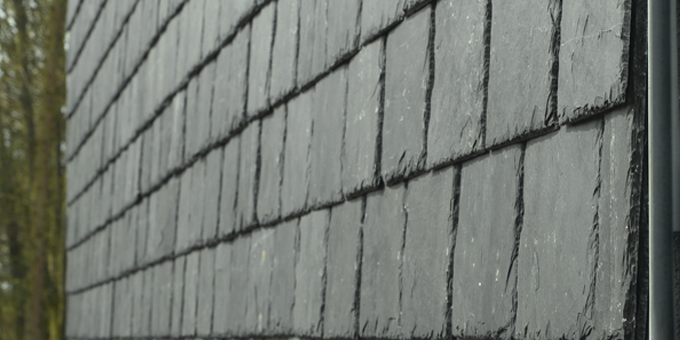 Tandrupkollegiet, a modern youth housing located on Vanløse (Denmark), achieved a touch of urban design thanks to CUPACLAD™.
Kant Arkitekter based the project on "natural slate blocks with white balconies cut into the slate". They created a compact building, taking care of sustainable products such as natural slate.
CUPACLAD™ covered the facade, with a total surface of 1.300 square meters, using an invisible fixing system. Take a look at this post.
FAELLEDGARDEN, CARE CENTER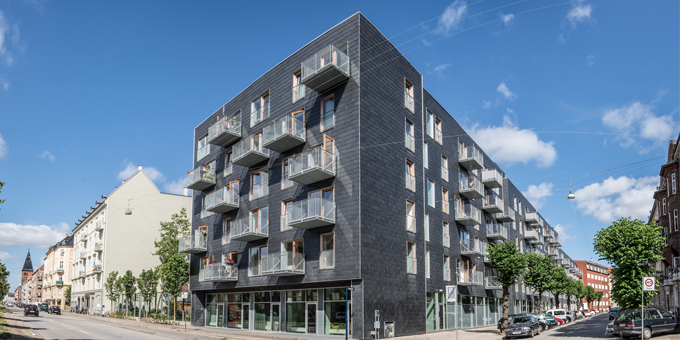 BR10. Jönsson, Esbensen + Sloth Møller, LIW planning and JJW Arkitekter renovated Fælledgården care center.
Located in Copenhagen (Denmark), these 193 assisted living facilities were renovated using CUPACLAD™ installed to the a modern way, with horizontal orientation.
This care center is an excelent sample of sustainable architecture, converted to a low energy building in accordance to the Danish Building Regulations.
More information about this project here.
VILLA RISSKOV, A FAMILY HOUSE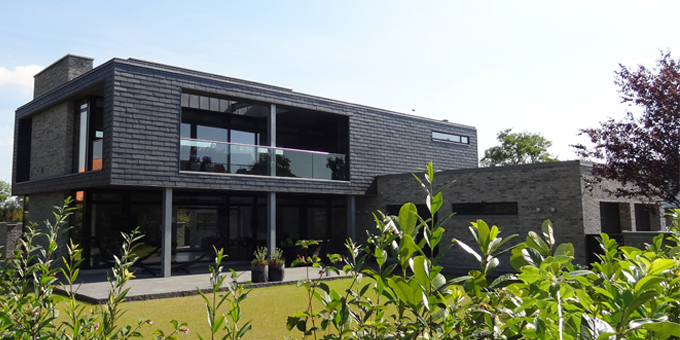 Villa Risskov is a modern and functional project of CUPACLAD™ 101, a ventilated and invisible facade system. Vision Arkitekter combined natural slate with Petersen water-struck and coal fired bricks. Lightweight and easy to install, this construction system helps to create a black block with large windows. Read this post.
 RAGNHILDGADE, CHILD CARE CENTER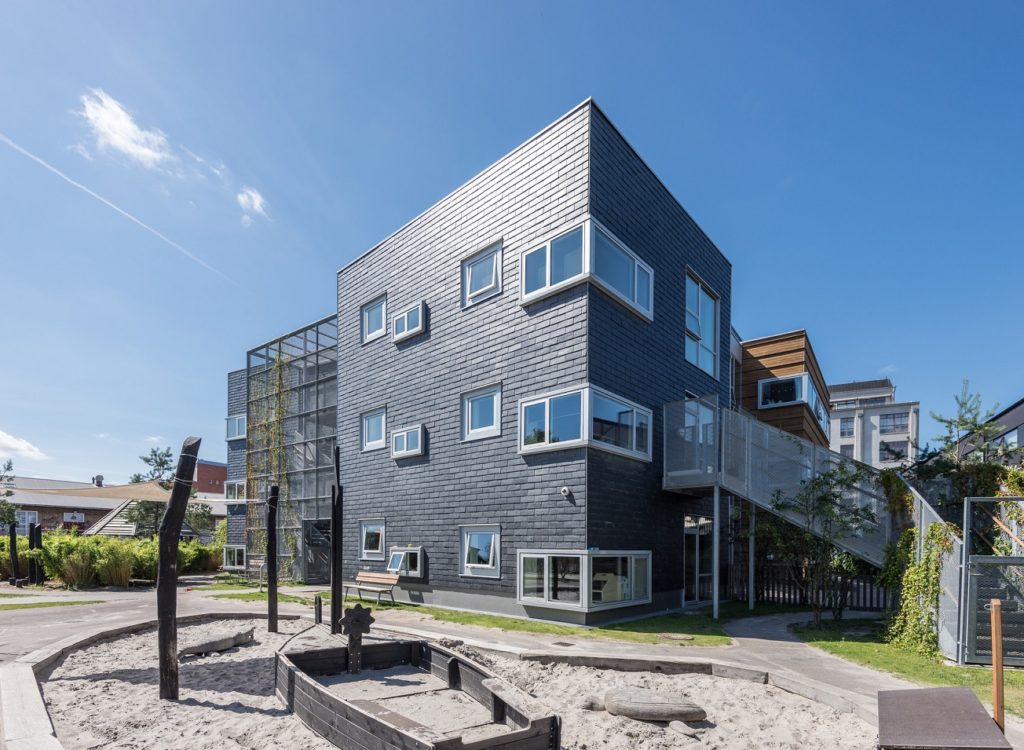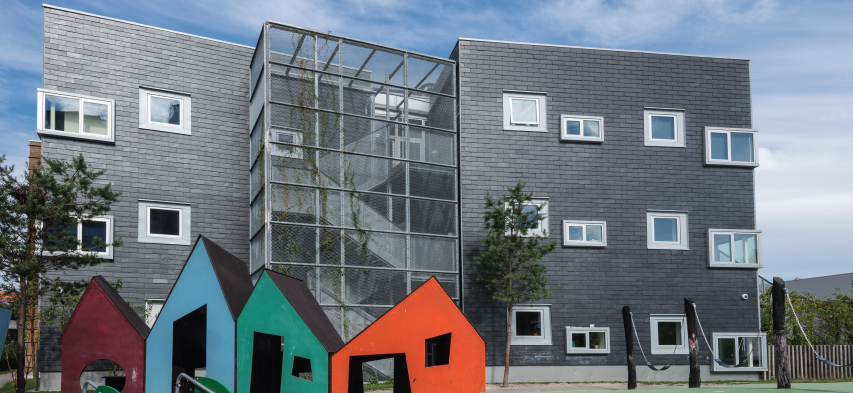 Danish architects Vandkunsten have been inspired by the strength of CUPACLAD™ for the design of a new day care center in Ragnhildgade (Copenhagen).
Over 1,000 square metres of CUPA PIZARRAS natural slate emphasize the original character of the building that accommodates 240 children.
B. Nygaard Sørensen and Scandibyg A/S installed CUPA PIZARRAS natural slate facade system to create a modern building appearance. Find here this post.