Events
05/07/2021
Join CUPA PIZARRAS' Best of the best 2021 competition and win a trip to La Medua (Spain)
Over the last few months we have seen a lot of wonderful and amazing projects featuring our natural slate. Now we want to share them with our community and our followers will decide which ones can be named the best of the year. And this distinction has a double prize: the champions will be invited for a trip to our headquarters in La Medua in Northern Spain!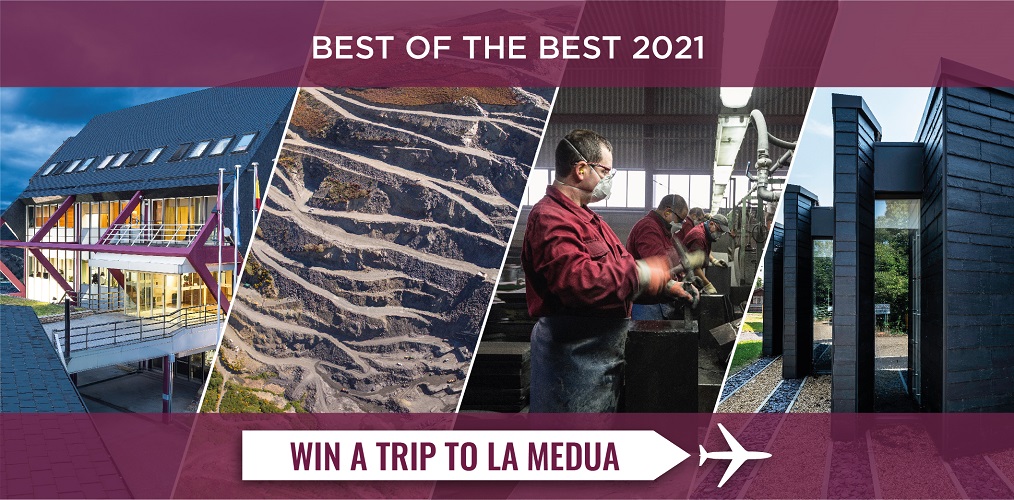 Are you a natural slate professional or you work in a related field and want to participate? To enter you simply have to send us a video of your work! We have two categories that you can enter.
Project of the year

If you think that you have installed, designed or participated somehow in the construction of an impressive natural slate roof recently, this is your category. We will upload the videos to our Instagram channel, and the post with the most likes will be the winner. Include everything you think is original that shows off the quality of your roof or façade including things like arial shots, time lapses and images of before and after.


Best skills

If craftmanship, technical know-how and the attention to detail is what motivates you, this category is for you. Your video submissions will appear on our website and the voting will be open to everyone. Here you can include any footage that shows off your slate roofing abilities, your hammer and anvil management of any technical details.

If you want to participate you must send us your video before the 1st of November through Wetransfer or other similar services. You can contact us through social media or the following mail jhernandez@cupapizarras.com and we will find the easiest way for you to send us your material.
The videos have to last between 1:30 and 2 minutes and be in horizontal format. If you have good material and you want to join but you need some help editing the video, do not hesitate to contact us, we will find a solution.
Winners from both categories will receive free trip to our headquarters in La Medua (Spain), where they will visit our quarries and transformation plants to see the care with which we produce every single one of our natural slate pallets.
Do not hesitate, hands on deck. We'll be here waiting for you!