Comparative of materials. Why are the characteristics of natural slate unbeatable?
Every single test carried out confirms that natural slate's properties are unreachable for other materials. Its elegant appearance remains intact during its entire lifespan and its performance is unrivalled among the alternative roofing and façade products.

Immutable color
Deterioration of natural slate is unnoticeable to the human eye. Its color remains the same as it did when first installed, even in the coldest environments. Meanwhile, other materials can lose their pigmentation considerably over time.

Color loss in cold conditions. Comparison before and after 600 frost-thaw cycles*


Permanent sheen
The distinctive sheen of natural slate also remains constant throughout its life cycleCompared to natural slate, other roofing materials ' sheen can decrease up to eight times superior, noticeable to even an unexperienced eye.
Sheen loss in marine environments. Compared after 300 frost-thaw cycles*

Maximum resistance
Natural slate is the only material in which its resistance increases over time meaning that natural slate can endure the distance whilst only becoming stronger.

Resistance variation in cold conditions. Compared after 600 frost-thaw cycles*


Healthy soundproofing
Natural slate soundproofs your home better than any other roofing alternative.
Acoustic intensity level produced by the rain in the different roofing materials.*

Unbeatable lifespan
Natural slate has a lifespan of at least 75 years, which guarantees at least a 30% longer life-span than any other façade or roofing materials.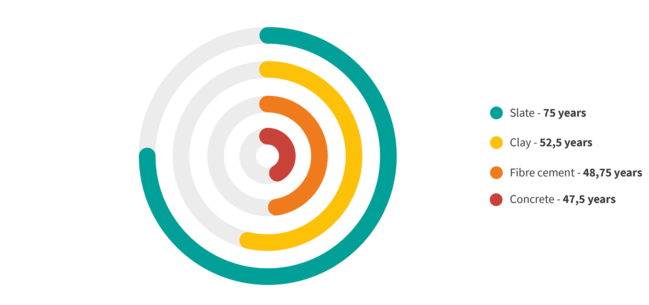 Materials lifespan according to the information provided by the manufacturers*
| | EMISSION OF SMELL, SMOKE OR PARTICLES | TRACE DIAMETER |
| --- | --- | --- |
| Natural slate | no | 0 mm |
| Concrete tiles | no | 26 mm |
| Fibre cement tiles | yes | 31 mm |
| Steel tiles | yes | 100 mm on both sides |
| Aluminium tiles | yes | 49 mm on both sides |
| Zinc tiles | yes | 68 mm on both sides |

Effective fire protection
The performance tests confirm that natural slate is the roofing material with the best fire resistance. It's the only solution which does not release smoke or deteriorate when in contact with fire.
Fire performance against fire based on a flammability test carried out according to the norm UNE EN ISO 11925-2 *

Now that you are aware of the unmatchable technical properties of the natural slate, would you like to check it out for yourself? Register here and ask for a free sample..
* All these figures are the result of different tests carried out by different authors. You can consult the whole analysis through this link.