EVENTS
20/03/2020
Take part in the CUPA PIZARRAS tournament and choose your favorite project!
In CUPA PIZARRAS we have decided to do our bit to contribute to having better days during the isolation caused by coronavirus outbreak. If your most loved sport has been suspended until further notice, do not worry because we present #CUPApizarrasFinals, a tournament to choose your favorite project through voting on our Instagram.
The rules are quite simple. We have chosen 32 projects, of all kinds and origins, featuring one of our products. After an impartial  draw, chance has decided the knock-out rounds as you can see in the picture.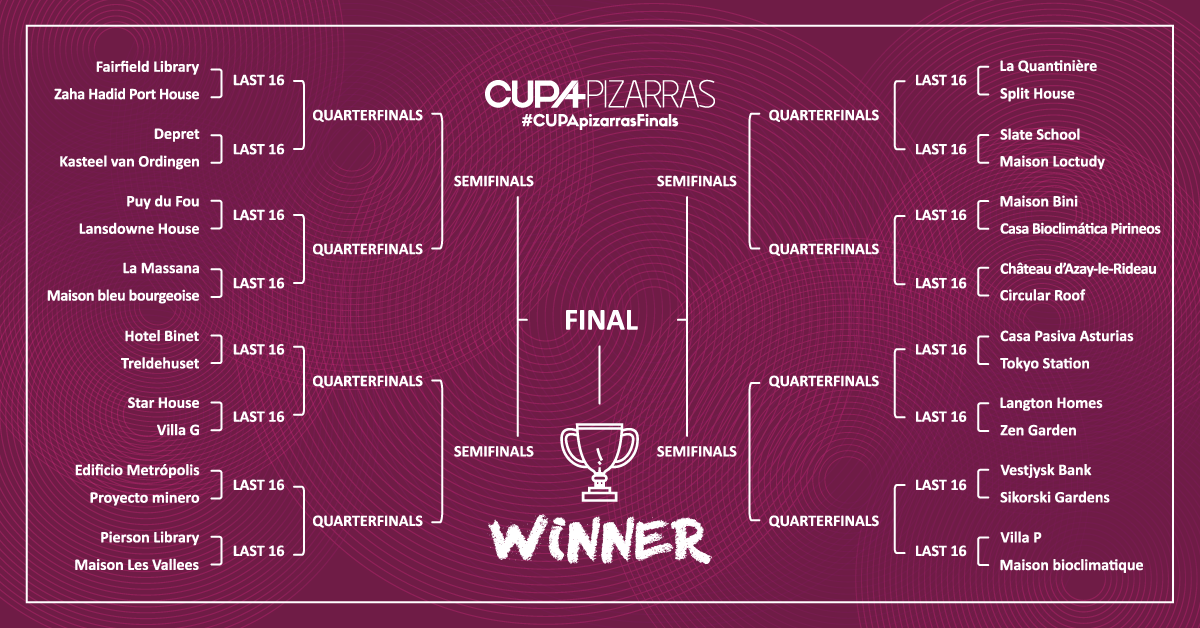 Each match will be played in an Instagram story, where the audience will support their favorite. The most voted at the end of the 24 hours long of the story will pass the round.
As the narrow calendar is also affecting us, the tournament dates are as follow:
Round of 32: from Tuesday 24th March to Friday 27th March (4 matches a day)
Round of 16: Monday 30th March and Tuesday 31st March (4 matches a day)
Quarterfinals: Wednesday 1st April and Thursday 2nd April (2 matches a day)
Semifinals: Friday 3rd April (2 matches)
Final: 7th April
Wednesday 8th April: official winner announcement
After each round, we will update the tournament table and we will keep you informed. But if you don't want to miss anything, the best option is to stay tuned to the hashtag #CUPApizarrasFinals and to our social media channels. May the best project win!