Natural slate
06/24/2019
How to identify a CUPA PIZARRAS slate pallet
At CUPA PIZARRAS we track every step of our productive process. Our natural slate undergoes comprehensive quality control from extraction to manufacturing and packaging in the transformation units. Therefore, every CUPA natural slate pallet has a unique barcode that provides the products full traceability.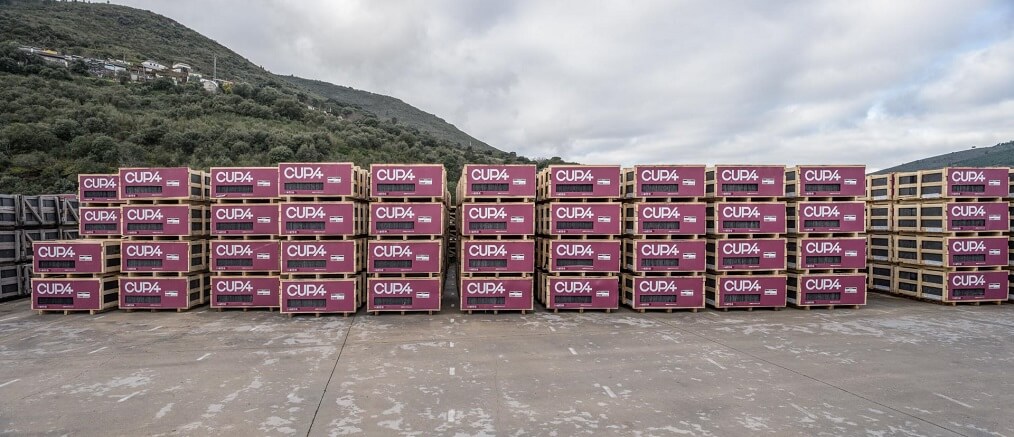 Our strict quality control and traceability procedure allows us to monitor the quality of our products in real time and provide precise information about our natural slates to our clients and distributors.
A unique barcode in every CUPA PIZARRAS pallet
All CUPA slate pallets include a label with a unique barcode that accurately identifies the natural slate inside.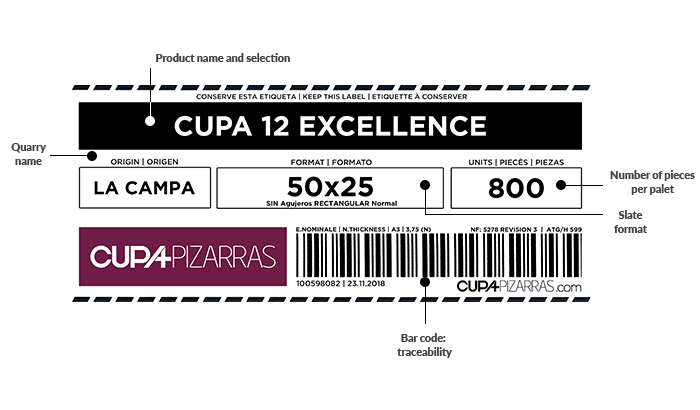 The full production process is identified on the label; the origin, product name and selection, slate format and the number of slates in the pallet. Next to the CUPA PIZARRAS logo, you will find a unique barcode which identifies the product information; production date, testing and technical data as well as the hand splitter and packer.
Furthermore, our pallets showcase our obtained international standards including the CE, ISO certificates, product quality regulations and so on…
Our traceability procedure allows us to provide precise data to our distributors and clients, as well as monitoring slate quality from start to finish.
A label defining the slate features
Moreover, every slate pallet includes a 'test results' label which highlights the quality and resistance of our natural slates.

The label includes the main features of the slate according to the EN 12326-1 European standard. This defines the specification of slates and carbonated slates as well as the compliance with different parameters, which highlights our product meets the quality requirements for its commercialisation.
Personalized pallets with the CUPA logo
Last by not least, all our pallets are personalised with CUPA PIZARRAS branding.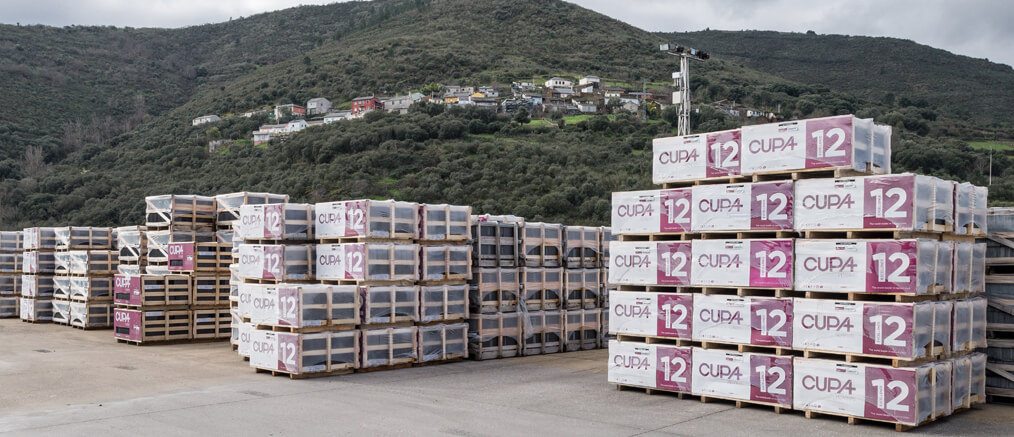 We strive on providing our customers with a stress-free and reliable service and product by providing full product, traceability and quality control information with every slate. A high-quality natural slate offers excellent performance and durability.
If you have any doubts about your natural slates, contact us now!