Projects
23/04/2019
HEAVY 3 roofing slate in an award-winning country house in Stirlingshire
Slate can be as modern as traditional, and this boomerang-shaped slate roof is a great example of this versatility. This unusual roof has been created with 900m2 of HEAVY 3 natural roofing slate and covers an award-winning country house in Stirlingshire.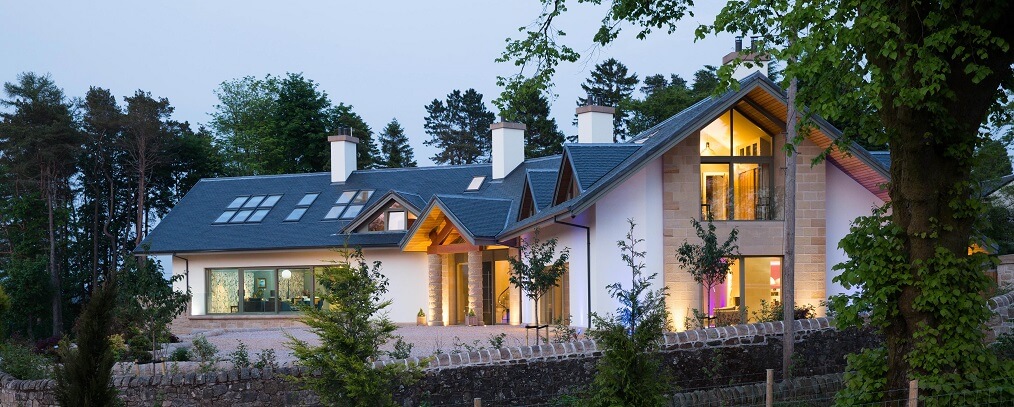 Heavy 3 was chosen because of its resistance and durability as it provides a first-class defence against Scottish weather conditions. Fiona Robinson, design architect and founding director at Thomas Robinson Architects, explains why they chose CUPA slate:
The very nature of Scottish architecture lends itself to selecting a natural slate roof. Having used the CUPA PIZARRAS Heavy 3 slate on our own roof many years ago, as a practice, it's our go-to slate of choice for projects that require a high-quality and durable product.
A contemporary home with a boomerang-shaped slate roof
Maximising space and light were a priority for the homeowners of this contemporary Scottish home. Therefore, the warm roof construction shaped like a boomerang provides a first-class defence against the elements and introduces roof lights and dormers at the same time.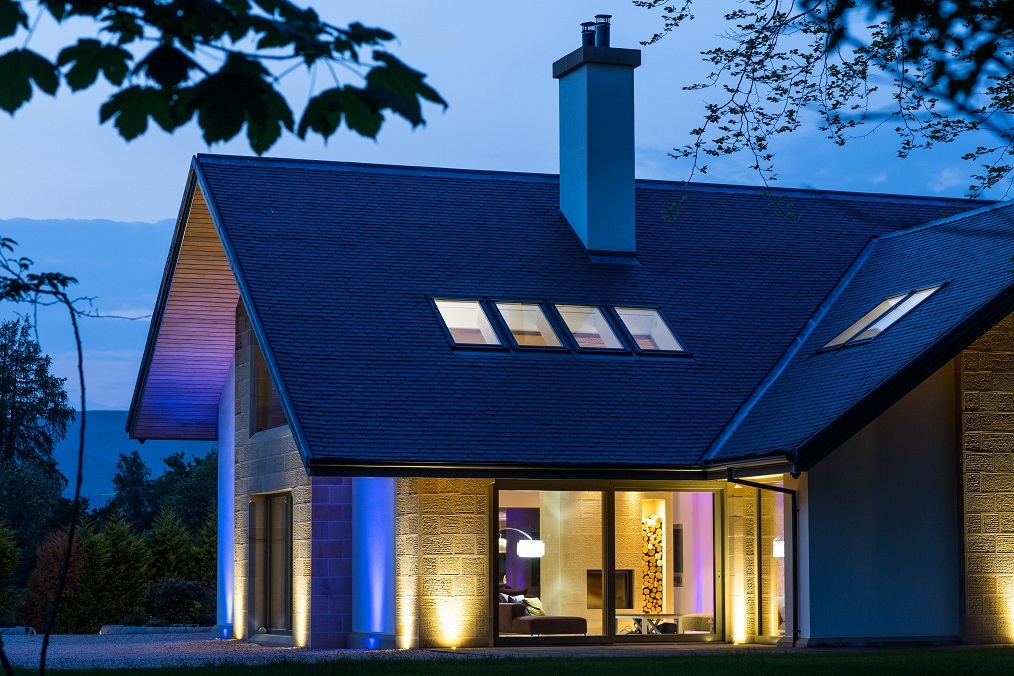 The boomerang-shaped roof is an essential feature of this country house. As the architect Fiona Robinson explains, they wanted to be sympathetic to the surrounding Scottish landscape and local architectural style, but the previous house was a lot smaller than their client wanted the new one to be, so the challenge was significant. They needed to make the building appear as small as possible by keeping the footprint tight.
Fiona Robinson explains the boomerang-shaped design:
To make best use of the site's space, we followed the contours of the landscape. This gave us a softly curved c-shape for the five-bedroom house with two wings on the outside edge of the curve of the 'c'. It looks like a boomerang from above. The large roof overhangs allow everything, including the garage, to be tucked underneath the ground floor. Built across eight different levels, some incredibly interesting spaces have been created internally. Making the most of the moorland views, we positioned the rooms to face north whilst to the rear of the property the two wings form a natural south-facing private courtyard.
This impressive contemporary Scottish home won the Individual New Build or Small Development category at The Herald Property Awards for Scotland in 2017. We are truly happy to see our blue black HEAVY 3 slate on such great projects.
If you're looking for a strong material that withstands high wind speeds and driving rain, HEAVY 3 natural slate is your solution. Its extra thickness makes it the preferred choice in Scotland.
Do not hesitate to contact us for more information about our natural slate.