Projects
22/02/2019
New village hall with CUPA 12 slate roof in West Sussex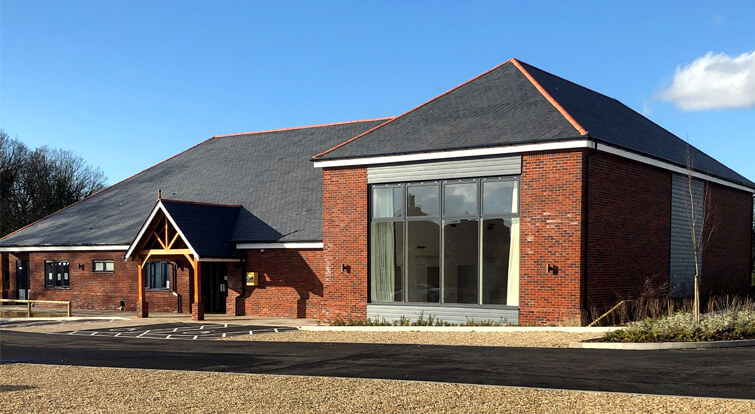 This new village hall in Thakeham has opted for a standard detailed slate roof. CUPA 12 has been the selected roofing slate, which has been supplied by our distributor Burton Roofing Merchants (BRM).
A 380 sqm roof covered with natural slate
Oakford Homes have gained this fantastic new facility as part of their unique housing development, designed by Thrive architects. The architectural firm specialises in residential estate developments and this project is a good example of their expertise.
The 380sqm village hall roof was subcontracted to the NJS group, who are experts in all kinds of roofing projects, from private residential to large commercial sites.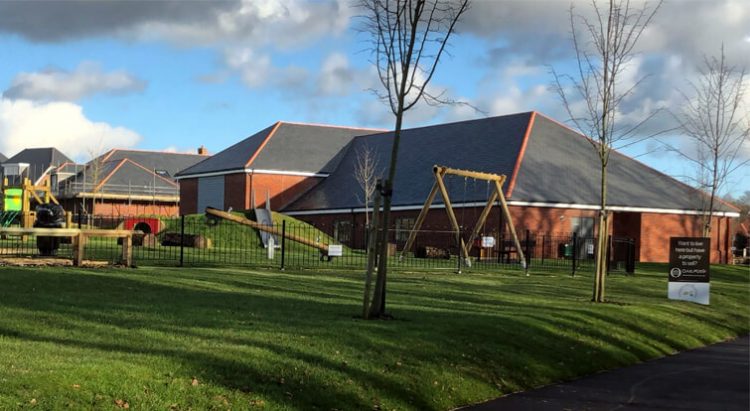 Although rectangular slate is used over the large area, bullnose slates were added to the design to provide more personality to the building, by creating feature courses. Depending on headlap and pitch, we can always provide made-to-order bespoke shapes.
A durable and sustainable choice
Slate's natural properties ensure a lifespan of up to 100 years. This high-quality natural material is not only durable but requires no maintenance. Its appearance and performance remain unchangeable throughout decades. These qualities were relevant when choosing the product.
Evidently, not all slates are the same. There are different slate selections (R Excellence, H, Natural and Heavy) depending on workability and appearance. Guaranteeing the high quality of the slate is essential to us, that is why roofers and roofing specifiers trust our products.
High roofing expertise and high-quality slate
The slates used for the project require a high expertise to guarantee a uniform installation, perfectly adapting the product to the roof. Our distributor BRM supplies everything necessary to ensure the weathertightness and durability of the slate roof.
The roofing director of NJS Roofing, Darren Stigant, explains:
We have been using Burton Roofing for 3 years now and they always provide a reliable service, high stock levels and staff that go out to their way to ensure we get the material on site when we need it.
BRM confidently recommends CUPA slates because of our consistent level of quality and trouble-free product and service guarantee.
Discover more about our roofing slate range.