How can I request a Guarantee Certificate?
We have implemented a new efficient online Guarantee Request Process to make things easier and faster for you.
You will have the possibility to create your guarantees within as little as one day just following some basic steps. The most important thing that you should remember is to keep a copy of the pallet IDs and the invoice.
Why is this helpful for a me as a roofer?
You will save time by processing the request directly through our Resource Centre. If the information provided is accurate, the certificate should be issued as quick as same day.
Furthermore, you will have the possibility to keep all your requests and certificates in one place, digitalised and accessible every time you need them.
Which documents do I need to keep?
There are two mandatory documents which are required to request your guarantee.
First one is the pallet ID. We recommend you take a quick snap on your phone or peel them off the pallet before use to ensure you have all the required information for your guarantee request. You can see in the image attached where the pallet ID is placed.
Second one is a copy of the invoice, where the numbers must be legible.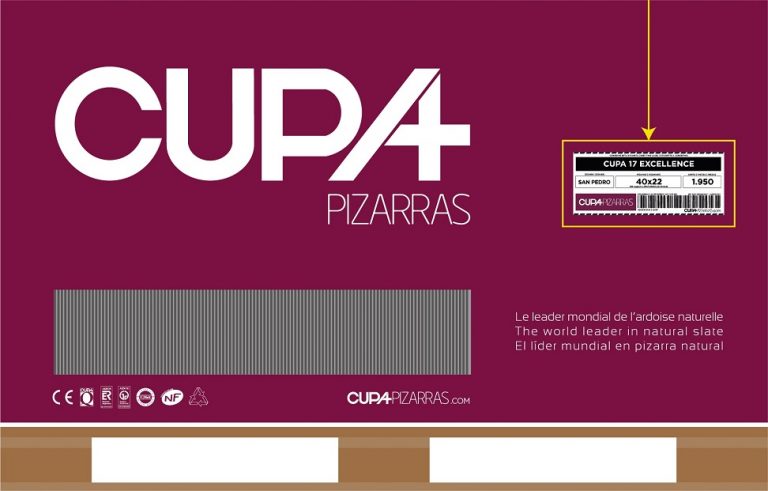 What are the main advantages?
This online guarantee process will save you time and help you to keep all the documents in one place, giving you more control.
CUPA PIZARRAS has a unique comprehensive quality control system that enables us to identify the origin, type, technical data and production dates for each of our natural slates. This precise information on each slate builds trust and confidence with our customers, that they can be sure of what exactly are they purchasing and installing.
Furthermore, our exhaustive control of the whole process enables us to offer a range of natural slates that exceed all the international quality standards.