Cupaclad
Benefits of external thermal insulation using CUPACLAD natural slate cladding systems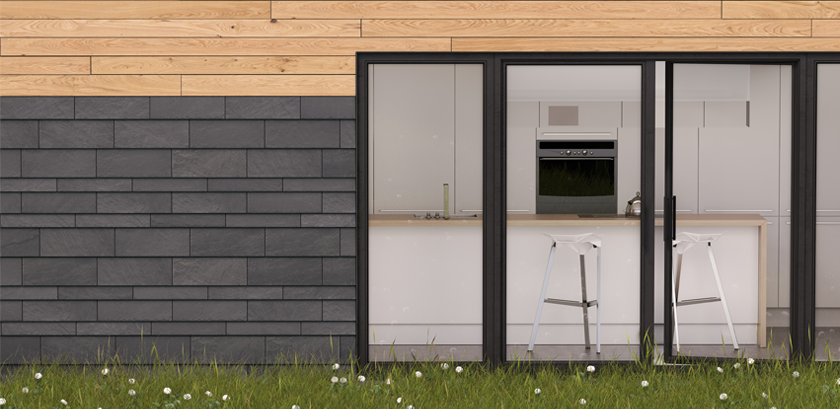 CUPACLAD natural slate cladding systems have all the advantages of ventilated facades.
External thermal insulation provides considerable benefits such as energy efficiency, comfort levels and savings to our home.
Avoiding thermal bridges increases thermal comfort by reducing heat movement, which results in a warmer home in winter and cooler in summer.
As a result, CUPACLAD systems achieve significant energy savings and enhance comfort levels of our home.
External insulation also avoids the reduction of usable interior space of the building.
The vertical battens required by CUPACLAD can be fixed to the supporting wall directly or by metal brackets.
These brackets compensate any irregularities on the supporting wall, in order to obtain a perfect positioning of the vertical battens, while also creating space between them and the wall, enabling the installation of external insulation.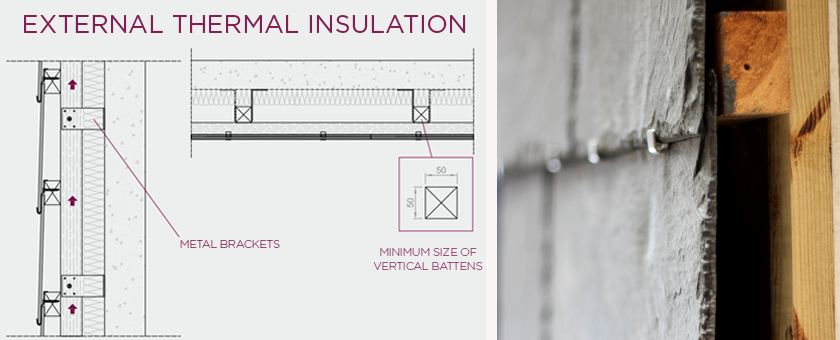 Metal brackets must be made of durable metal or treated against corrosion. Installation with metal brackets requires the use of vertical battens with minimum size of 50x50mm.
Metal bracket size depends on the thickness of the insulation material to be installed. Metal brackets must be installed alternating their position in both sides of the vertical battens.
Durable slate for facades
CUPACLAD natural slate is an outstanding material that has stood the test of time. Extraordinarily long lived, remarkably durable, fire resistant and naturally waterproof, natural slate is simply the ideal product for any project.
All CUPACLAD slates are selected for their natural toughness and unique textures, and handcrafted specifically to be used in facade.
From thickness to mineral properties, the quality of our CUPACLAD slates is controlled by our traceability system, which helps us maintain our commitment to quality.
The remarkable durability of natural slate is due to reduced rainwater penetration and constant ventilation. Thermal comfort is increased thanks to a cooling effect in summer and high heat retention in winter.
Finally, CUPACLAD reduces structural movement and risk of cracks in the building.