Cupaclad
CUPACLAD® creates a contemporary look to a building for young people in Copenhagen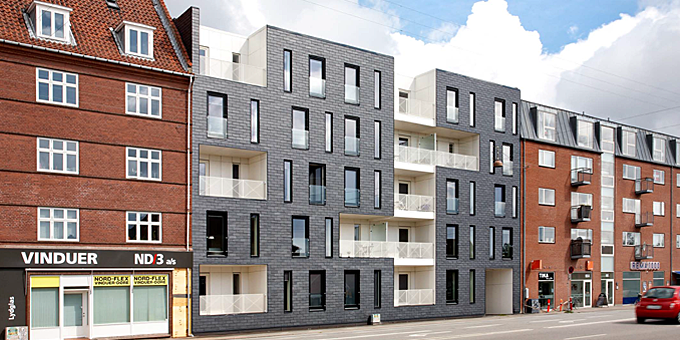 CUPA PIZARRAS natural slate creates a unique look to this 5 storage high building for youth housing in Copenhagen (Denmark).
Located on Jyllingevej, this student accommodation project, designed by Kant Arkitekter, uses our innovative installation system CUPACLAD, made for natural slate ventiladed facades.
Our natural slate creates a modern look to this cladding facade, with a total surface of 900 square meters.
CUPACLAD, AN INNOVATIVE INSTALLATION SYSTEM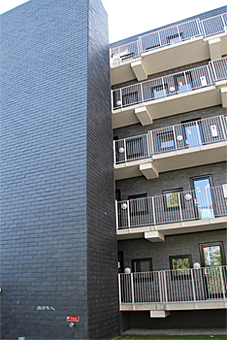 With CUPACLAD, natural slate can be horizontally overlapped. Our invisible installation system uses CUPA PIZARRAS patented screws to fix natural slate tiles to the façade.
Natural slates are laid horizontally and easily fixed by concealed screws, reducing installation times.
CUPACLAD exclusive installation system is similar to our invisible system, but uses CUPA PIZARRAS patented anchors.
The contrast between both elements, metallic anchor and natural tile, enhances the beauty of our unique slates.
CUPACLAD is also compatible with the traditional hook installation method, that gives any façade a timeless look.
28 HOUSING UNITS FOR YOUNG PEOPLE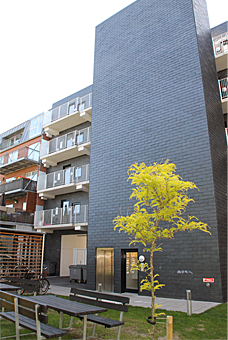 Kant Arkitekter obtained the support of the Danish Ministry of Social Affairs for this new student accommodation project in Copenhagen.
The project included the construction of  28 housing units for young people in a  formerly run-down area. Kant Arkitekter developed a system of building based on prefabricated modules.
Located just 3 km from Copenhagen Business School, 3.5 miles from North High School in Brønshøj and 4.5 km from Frederiksberg Gymnasium, this 5 storage high building is ideal for youth housing.
In fact, young people have the opportunity to live cheaply in a contemporary and comfortable environment of high architectural quality.