Projects
Heavy 3 slate for an iconic B listed building in Glasgow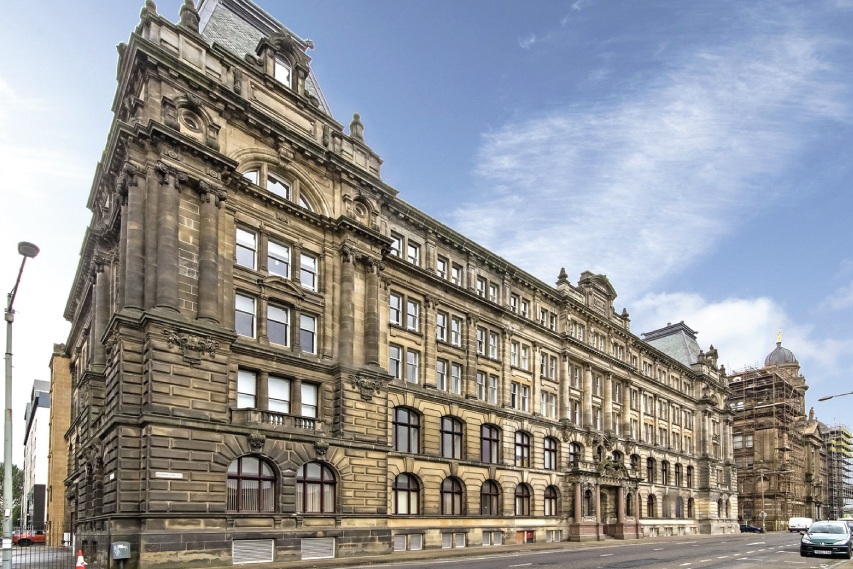 This iconic Glasgow building has been saved for future generations! A total roof replacement, has avoided this B-listed dwelling located in Glasgow's Tradeston area to fall into serious disrepair.
Thanks to the building's factor Speirs Gumley, a group of home and business owners, and grant funding from Glasgow City Council, its Heavy 3 slate roof is now looking even better than the original one back in time!
HEAVY 3 SLATE AND GLASGOW'S ARCHITECTURAL HISTORY
The building at 33 Dalintober Street/53 Morrison Street was originally designed in 1919 by architect James Ferrigan as a warehouse for the Scottish Co-operative Wholesale Society, completed in 1933. It sits beside the very prominent Co-operative House next to the Kingston Bridge on the south side of the Clyde
In 1999 it was converted into 60 flats and four commercial units but a survey found it was at risk of deteriorating rapidly if the 100-year-old roof was not completely renovated.
This is when they decided to replace it and install Heavy 3 slate all over the 2000m2 roof. Produced at an extra thickness perfectly suited for Scottish inclement weather, Heavy 3 gets to boost the value of any building. That makes it the best solution for the restoration of such an iconic heritage dwelling.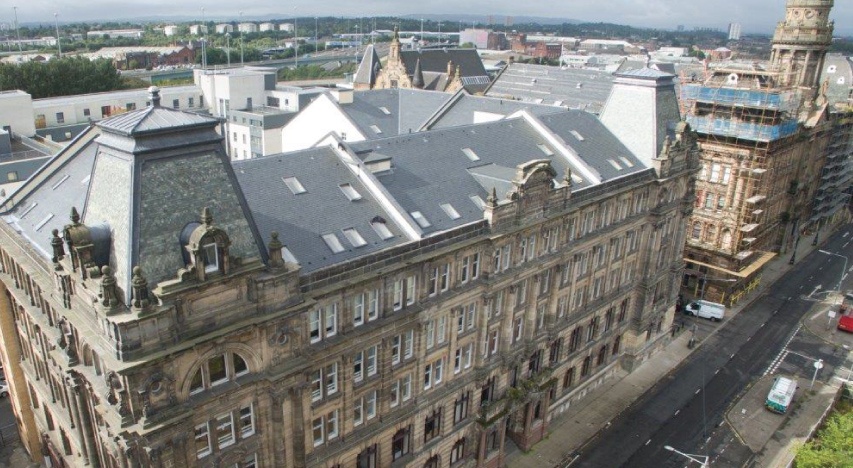 Besides of its natural and technical properties, Heavy 3 has a 100 years' warranty with no repair or maintenance expenses, resulting in very low whole life cost. This gives the home and business owners peace of mind for a long time…
Heavy 3 is a blue black slate with non-rusting metallic particles and thin laminations quarried in Solana de Forcadas (Leon, Spain). This quarry has already confirmed its reputation: it has more than 125 years of production!
A REMARKABLE RESTORATION
As well as replacing the roof, improvements were also made to the underground carpark and stairwells along with a refurbishment of the facade.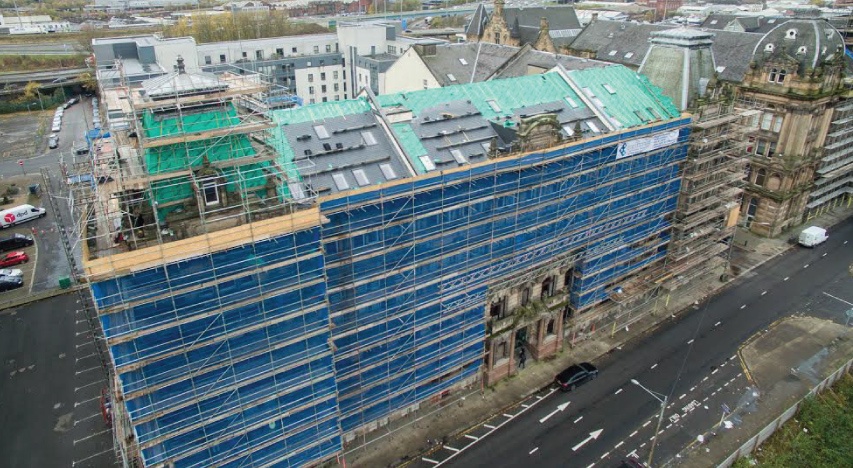 Facing bills of around £16,000 per homeowner and £43,000 per business owner, the cost of the repairs looked prohibitive until Factor Speirs Gumley were able to successfully secure grant funding of 50 percent from Glasgow City Council. Within just 12 weeks, the money had been raised and the vital repairs began in August 2015.
The building has now become a working example of best practice and what can be achieved when owners, property managers and local authorities pull together.
This restoration project actually marks the start of the transformation of Glasgow Tradeston area!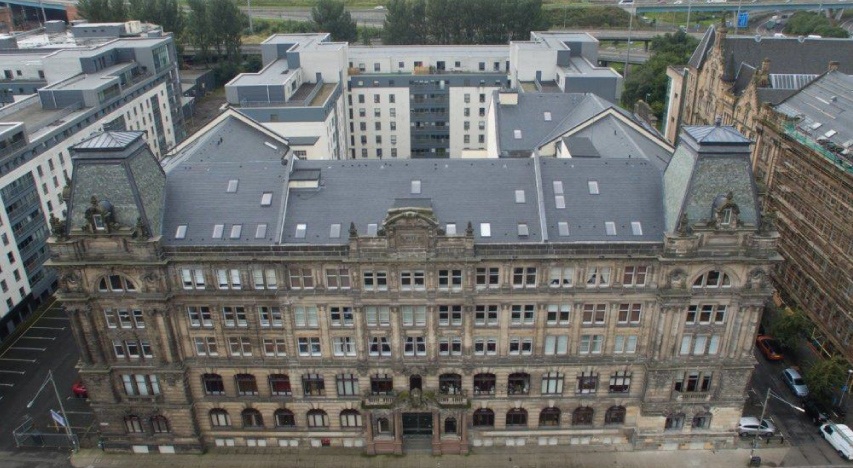 Councillor George Redmond, Executive Member for Jobs and Investment at Glasgow City Council, said:
It's great to see the restoration of this splendid building, another symbol of the regeneration of Tradeston, and an enterprise that all involved should be proud of.  I am delighted that the council supported this project, which saved an important part of Glasgow's built heritage for future generations.
Iain Thomson, a key member of the building's Owner Focus Group said:
I'm over the moon with how fantastic the building looks. Everyone involved has done a tremendous job and it's lovely to know that the future of the building has been secured for many years to come, because at the end of the day it's not just our home, it's a very important part of Glasgow's architectural history.
David Kerr of GDN Contracts said:
This was one of the biggest and most exciting restorations that we have ever worked on and I am very proud that we completed the repairs on budget on a project of this magnitude.
But this B listed building in Glasgow in not the only one featuring a Heavy 3 slate roof. Find here some of the most renowned Heavy 3 projects!