Events
18/06/2019
Share your best HEAVY 3 projects and win a handy tripod for your smartphone
With the summer season approaching, we want to take this opportunity to launch an Instagram contest with our bestselling natural slate in Scotland, HEAVY 3.
The contest will be held from June 18th at 9:00AM to June 25th at 9:00AM and will have two winners! To enter share your HEAVY 3 projects for a chance to win a versatile tripod for your smartphone and a featured post in our blog & Newsletter (more details below).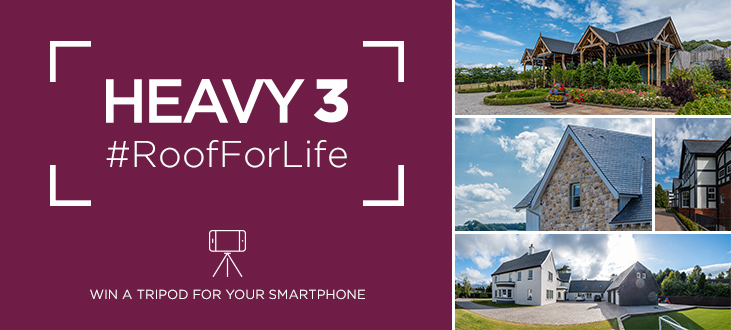 This handy pocket-size tripod for smartphone is perfect for taking the best pictures of your future roofing projects. We will choose 2 winners among the participants! Keep reading for full contest details…
Terms and conditions
To enter the HEAVY 3 Instagram contest, you need to:
Post a photo of a HEAVY 3 project you have done with the hashtag #RoofForLife on Instagram
Tag us @cupa.pizarras on the photo
Follow the CUPA PIZARRAS Instagram profile (@cupa.pizarras)
Start date: June 18th, 2019 at 9:00AM
End date: June 25th, 2019 at 9:00AM
Participants can share as many photos as they like to increase their chance to win.
Winners and gifts
There will be two winners: the photo with the most likes at the end of the contest and a photo chosen by a CUPA PIZARRAS jury.
For the photo with the most likes, it is important to play fair, so photos suspected to have used "Like bots" to win artificial likes will be disqualified. For the photo awarded by the jury, it will be evaluated according to creativity (50%) and quality (50%) criteria. Judging scores will not be disclosed.
Each winner will get a Joby GripTight ONE GP Tripod Stand with Phone Holder, and a promotional post of their company and project on the CUPA PIZARRAS blog, which will also be featured in the monthly Newsletter.
Winners will be announced on July 2nd on CUPA PIZARRAS' social media. On the same day, they will receive a private message on their Instagram account, where we will ask for their personal details to send the prize and start preparing the promotional post. Prizes will be sent via post to the address provided.
Winners must respond within two weeks to claim their prize, otherwise the prize will be awarded to the runner up.
Contest guideline
Contest photos must comply to the following rules:
Photos of HEAVY 3 projects in progress
Photos of HEAVY 3 projects finished
Photos of HEAVY 3 projects with HEAVY 3 pallets
Different photos of the same project
  Blurred photos
  Photos where the slate or material is not HEAVY 3 slate
  Photos were the slate is barely visible
  Plagiarized photos
This contest is only valid within the United Kingdom. Participants from other locations will be excluded.
Contact details
CUPA PIZARRAS UK Office
Email: uk@cupapizarras.com
Telephone: 020 3904 3001
CUPA PIZARRAS may use the contest photos posted for marketing purposes.
This contest is not sponsored, endorsed or administered by, or associated with Instagram or any other social media used throughout the contest.
Good luck to all the participants!