Interview
18/01/2022
Luc van Steertegem: 'The feeling you get when you are on a very steep and high roof, sorting, cutting and fixing slate, is pure freedom'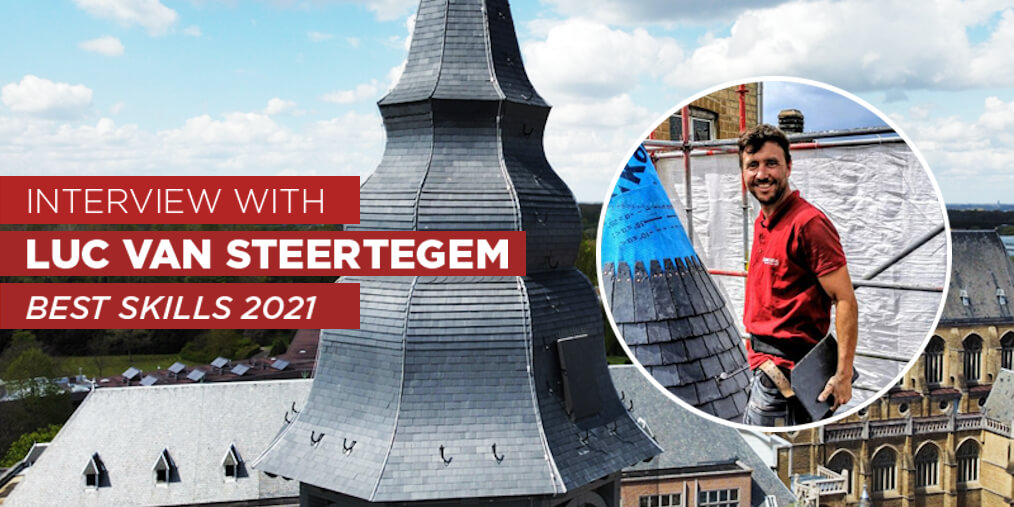 Belgian roofer Luc van Steertegem was chosen as the Best Roofer of the year 2021 thanks to your vote on our blog. We've spoken to him to find out more about this craft and what makes it unique.
CUPA PIZARRAS – You lifted our 'Best skills' award and your video received more than 600 votes, beating other participants from all around Europe. What does it mean for you?
Luc van Steertegem –The results of this contest show that a lot of people appreciate what we do as craftsmen, and I am grateful that I got the chance to showcase my work alongside some of the best roofers in Europe. The slating craft is my biggest passion, and I wanted to show a part of my world from my own point of view, and it paid off.
It feels great to win the vote of the public, but this would not have been possible without the help of colleagues, teachers, supervisors and fellow contenders I've had throughout the years. I feel like we continuously learn from eachother. If you keep an open mind and focus, you can learn a lot from any person that you meet on your journey. Every small detail counts, and that is what I try to show in my videos. I look forward taking part of more challanges like this in the future.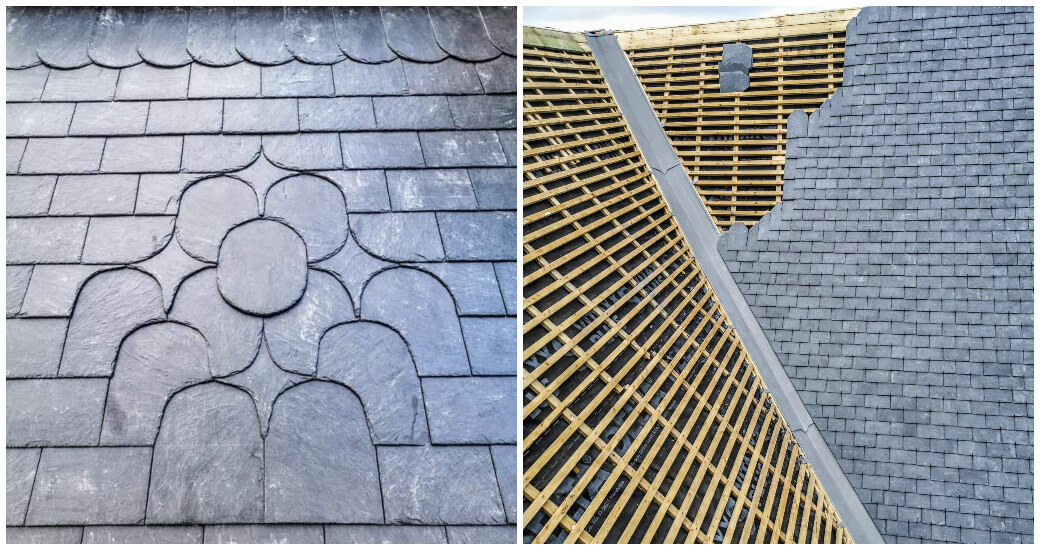 CP – What can we see in the video? Which projects or buildings are showcased there?
LvS – The Video starts showing the final phase of the main tower restoration at Borluut Castle, Ghent. Slates used for this project are CUPA 4 Excellence, and creating the top dome we had to manually cut down the slates to get the right size and curved look. We also used lead between  every layer, creating a unique look and extra protection against possible water infiltration from extreme weather conditions. Everything was fixed with copper nails, providing excellent durability. Also many of the zinc elements were hand made on site, giving a nice contrast between natural slate, lead and zinc.
Later in the video you can see some basic valley slatework, showing the traditional way of cutting slates. Once mastered, this is the best and fastest method of cutting slates, especially when using heavy and thick ones.  The final part of the video shows one of the main towers at Saint-Ursula Institute, a catholic school situated in Onze-Lieve-Vrouw-Waver. It has been fully restored to its original form, using CUPA 4 slates combined with lead. Stepping hooks and safety hooks were installed at the base of the turret, and the main poles were covered in quartz zinc.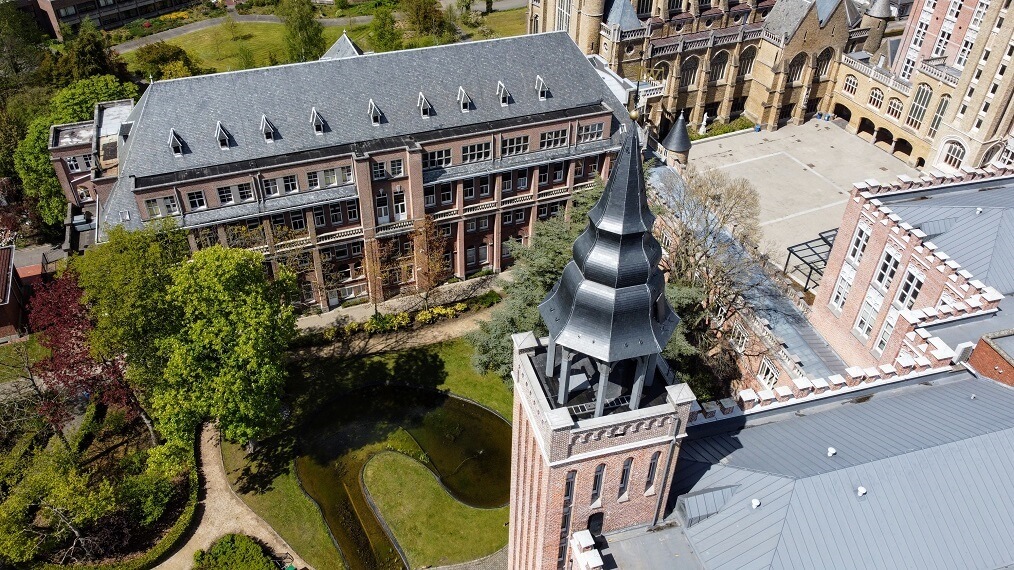 CP – As part of the prize, you will be travelling with your team to visit our quarries in Spain. What are you most looking forward to seeing?
LvS – I have never been to the headquarters of CUPA PIZARRAS, and I am very excited to be able to witness every step of the production process, from A to Z. Getting to know these procedures on site, will give me more knowledge on the product. Using natural slates daily, I find this a very important aspect.
CP – You were the only Belgian participant in the contest. Is there any slate roofing technique which is typical from Belgium?
LvS – In the Flemish region of Belgium we have our own way of covering hips, a returning model is made for both sides (We call it the Flemish model, but other countries or regions might call it something else, it looks a lot like a "fantail" hip) and a wood roll is installed at the center of the hip. When covering the models, lead flashings are formed between layers around the wood roll. This method is often used in Flanders, and is often specified by architects.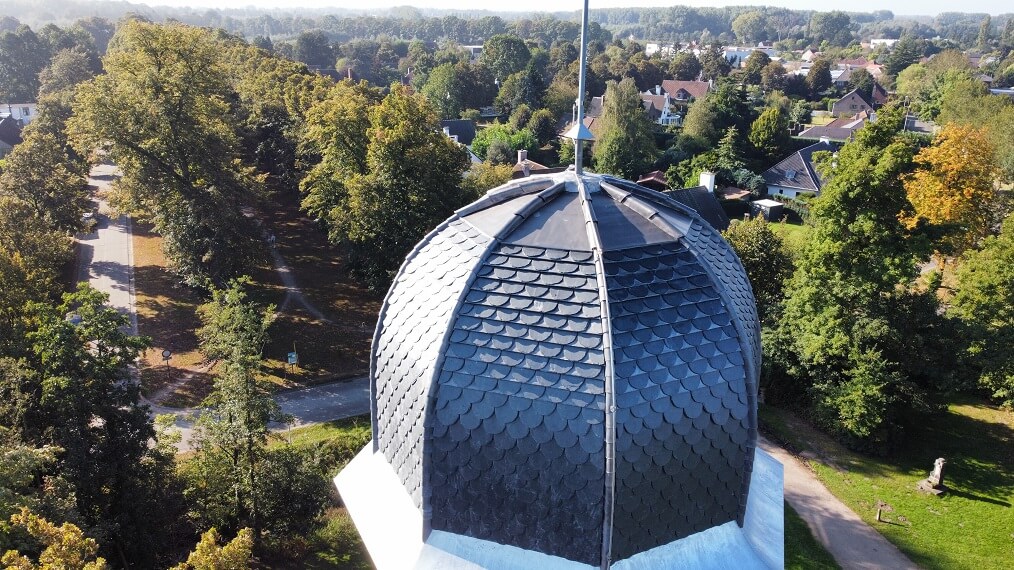 In the French-speaking part of Belgium, they have a different, more technical way of covering hips. The "French" method, where every layer has 3 different models, used on each side of the hip whitout a center wood roll. All 3 models overlap each other and blend in the main area of the roof in a less noticeable way.
CP – What do you like the most about installing natural slate?
LvS – I started slating in school when I was 16, ever since then I've loved every part of it. I enjoy the fact that you create amazing things with just your slate hammer and stack. The feeling you get when you are on a very steep and high roof, sorting, cutting and fixing slate, is pure freedom. That's when I excel the most.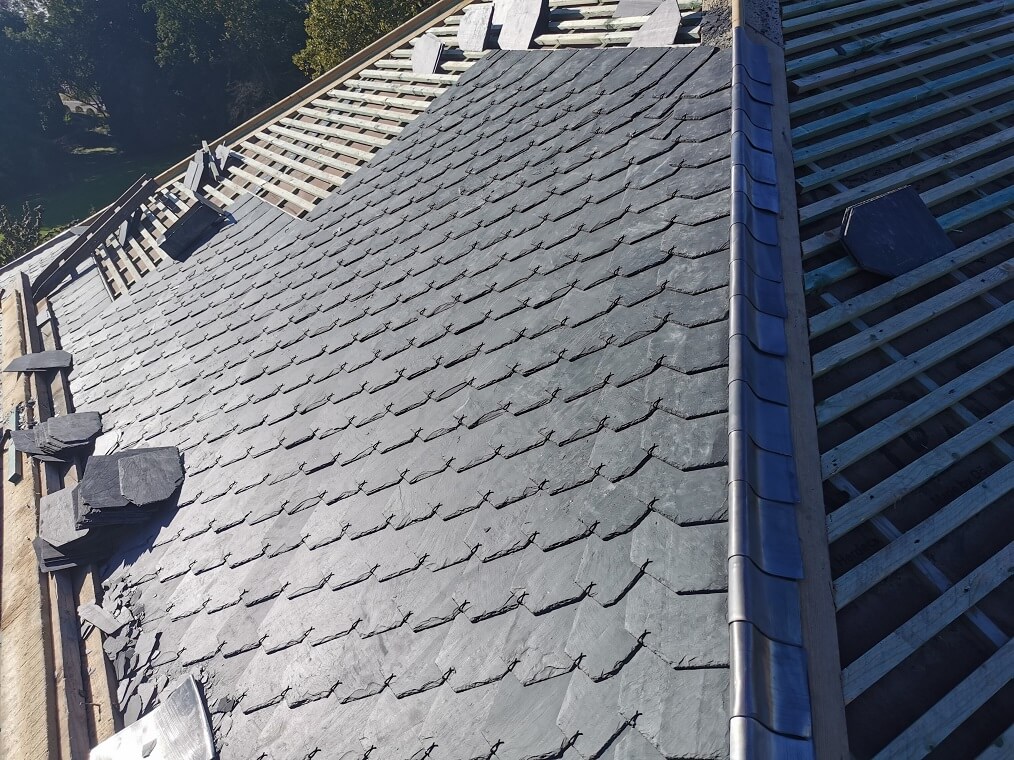 CP – What do you think your clients appreciate the most about a natural slate roof?
LvS – The excellent durability, combined with the raw and natural appearance is what makes a natural slate roof so special. Natural slates have all the characteristics needed in a finishing product. I believe you can lift any building into something stunning and unique, if used and combined in a smart way.
Whether it is used to cover roofs, inside or outside walls,  decorative or functional, the possibilities are endless.

Did you miss the contest videos?
Watch them again here.