Roofing
09/06/2023
Mansard roofing: is it a wall or a roof? The legislation explained
Do you know what technically constitutes as a mansard? As it can be difficult to define, legislation when constructing a mansard can be confusing.
Here, we try to shed some light on this and explain the benefits of using natural slate rainscreen cladding.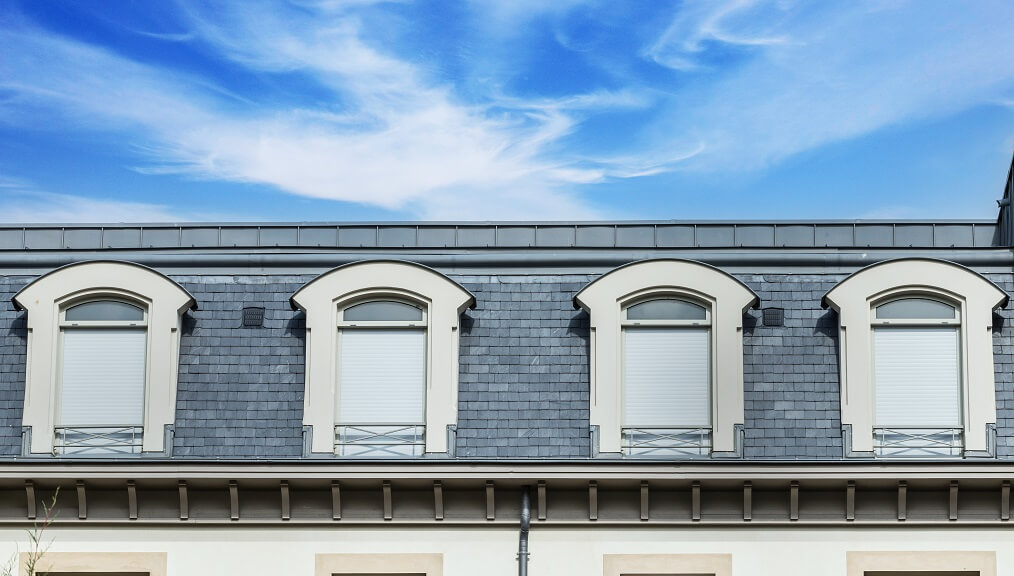 Popularised by architect Francois Mansart in the 17th century, a mansard roof provides an easy alternative to a lateral extension in locations where space is at a premium. An ideal solution for older terraced houses or blocks of flats, mansard roofing can be retrofitted to provide additional floorspace but also often features on new-builds that incorporate traditional design features.
However, in recent years, changes to the building regulations, specifically around fire safety, have impacted the materials that can be used as part of a mansard roof installation. For example, cladding can no longer be fixed using timber battens.
The legislation – what has changed?
The Building (Amendment) Regulations 2018/1230 that came into force in December 2018, class 'any part of a roof pitched at an angle of more than 70 degrees to the horizontal' as 'an external wall'. As such, many mansard roofs, which usually have a pitch of 70 degrees or more, should be classed as a wall and abide by the building regulations pertaining to external walls as a result.
The regulations do add that this is only relevant 'if that part of the roof adjoins a space within the building to which persons have access' and excludes roofs where access would be 'only for the purpose of […] repairs and maintenance'. However, as a mansard roof is usually installed for the purpose of creating additional usable space, this regulation would be applicable in most cases.
Interestingly, BS 5534, the British Standard Code of Practice for Slating and Tiling, goes one step further, classing any surface at a pitch of 75 degrees or greater from the horizontal as a wall, with no reference to whether the roofing space is widely accessible or in regular use. This suggests that best practice would be to consider any pitched surface an external wall and build it to the same stipulations.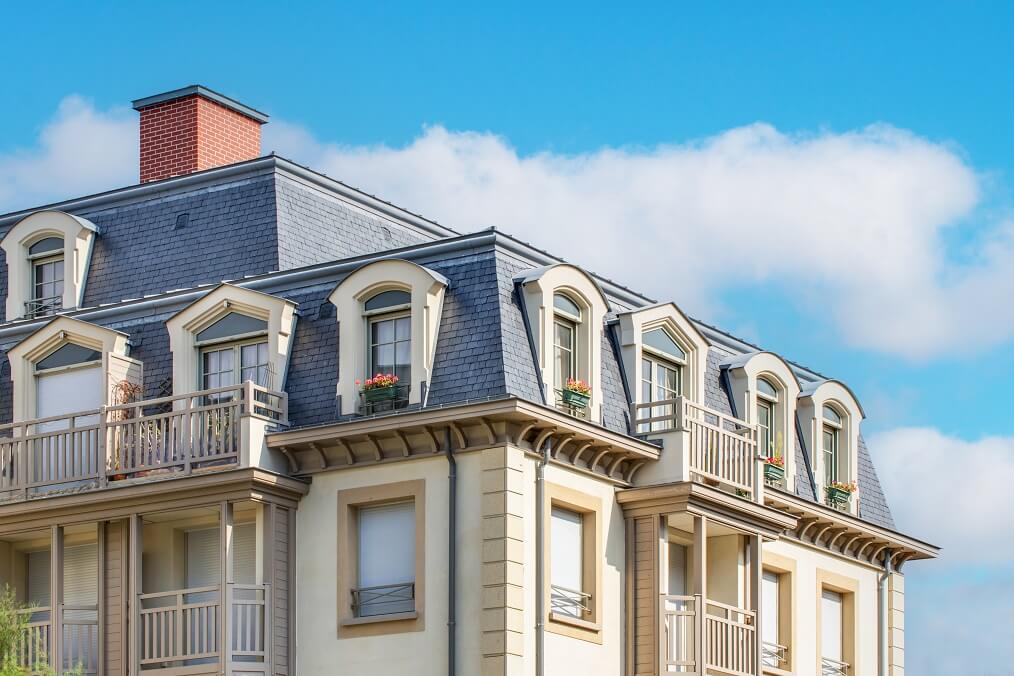 Why is this distinction important?
The distinction between a roof and an external wall is of particular importance given the two building elements have differing building requirements. In relation to the amendments to Regulation 7, which banned the use of combustible materials on external walls of buildings 'at least 18 meters above ground level', it is especially pertinent. The regulation states:
Building work shall be carried out so that materials, which become part of an external wall […] are of European Classification A2-s1, d0 or A1, classified in accordance with BS EN 13501-1:2007+A1:2009 entitled "Fire classification of construction products and building elements".
While generally 'any part of a roof' is outlined as exempt from the ban, as mentioned above, a mansard roof – depending on its pitch – can be considered a wall and should adhere to the stipulations of Regulation 7.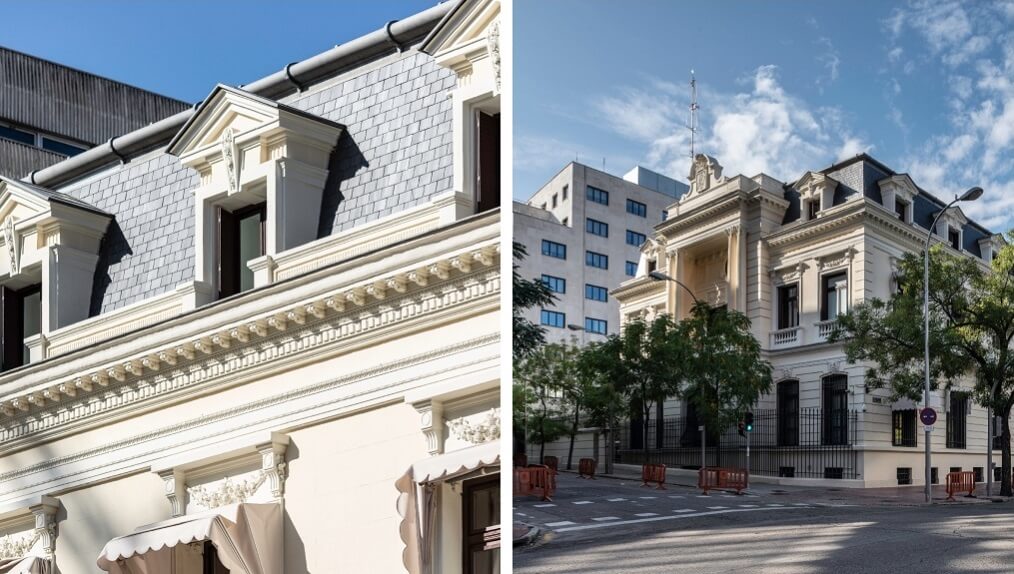 Crucially, this is likewise applicable if an existing building is going through a material change of use, as per Regulation 6, and now contains a flat, dwelling, institution or residential room where it previously did not, or contains more or less of these than it did previously. As such, a building with an existing mansard roof installed using the traditional timber batten method will need to be replaced with non-combustible materials if the building undergoes a change of use.
Approved Document B Fire Safety Volume 1 takes an even broader stance, suggesting in paragraph 10.4 that – further to the Regulation 7 – 'in relation to buildings of any height or use, consideration should be given to the choice of materials […] used for the external wall […] to reduce the risk of fire spread over the wall.'
Combined, these documents suggest that a standard mansard roof should always be considered an external wall and adhere to the strict building standards with regards to combustible material use on external walls. As such, it is advisable to avoid using timber battens to fix natural slate cladding to a mansard roof.
What are the alternatives?
A natural slate rainscreen cladding system that utilises a metal subframe is the ideal choice, providing an identical traditional slate finish using non-combustible materials. Not only do systems like these meet the requirements of the building regulations, but they also provide added durability as the subframe will not degrade over time. Furthermore, they can withstand extreme winds and impacts to a greater extent than a timber battened system.
The CUPACLAD natural slate rainscreen cladding systems with aluminium rails are available with both visible and invisible fixing systems. The invisible fixing systems provide the same layered finish as traditional cladding methods. The individual slates are also supplied pre-holed or with clip guide marks depending on the system selected, ensuring that installation is simple.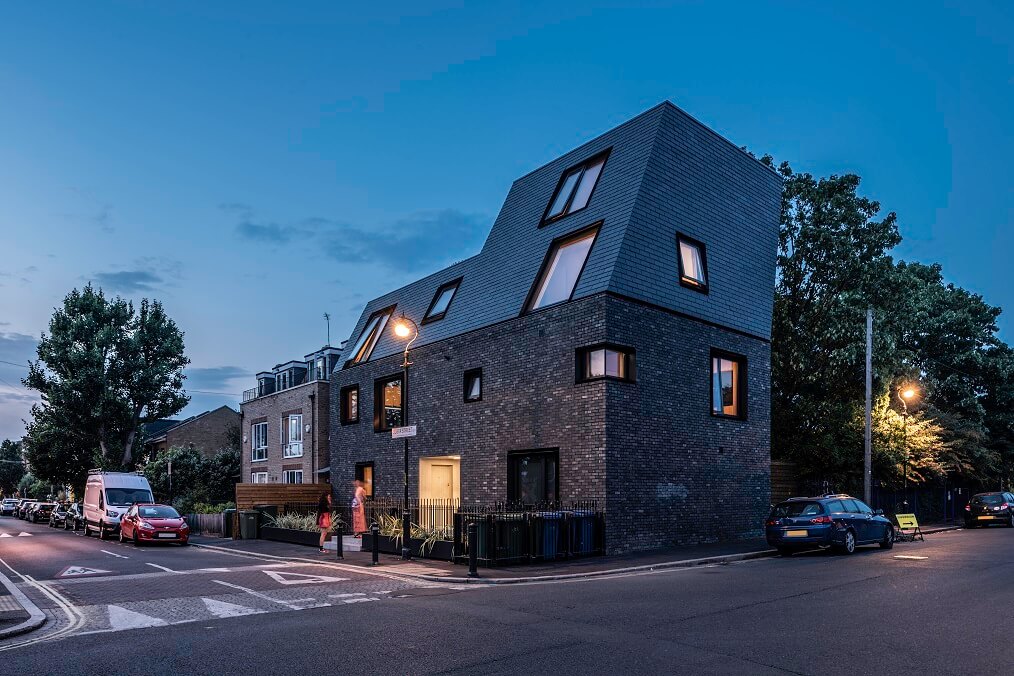 CUPACLAD combines traceable, handcrafted natural slates with stainless steel fixings and aluminium alloy brackets. All the main components of CUPACLAD are rated A1 non-combustible – the highest fire rating classification possible – and it has also received approval by the relevant British Board of Agrément (BBA) for impact testing, wind load and non-combustibility.
Following the 2018 amendments to the building regulations, many mansard roofs are now considered walls and therefore should follow the wider regulations with regards to the use of non-combustible materials. Given the level of variation with regards to the angle of the mansard, the use of the space within and the height of the building between the regulations and BS 5534, specifying an alternative non-combustible cladding method for all mansard roofs is advisable and should now be considered best practice.

  If you need professional advice, our technical team is at your disposal to answer all your questions regarding mansards. You only have to fill in this form and we will contact you as soon as possible.