Thermoslate
THERMOSLATE, a natural slate solar panel easy to install in roofs and façades
THERMOSLATE, the first and only natural slate solar thermal panel, can be easily installed in roofs and façades.
In the following video you can see the installation process of THERMOSLATE that combines energy efficiency to produce heat and sanitary hot water, with a perfect architectural integration:
CUPA PIZARRAS has developed the first natural slate solar thermal roof panel in the world.
This system was designed to deal with aesthetic involved in restoring historic buildings and monuments, as well as unique buildings and dwellings, with the aim of promoting the qualities and functionalities of a natural product par excellence, slate.
THERMOSLATE: ENERGY EFFICIENCY AND ECOLOGY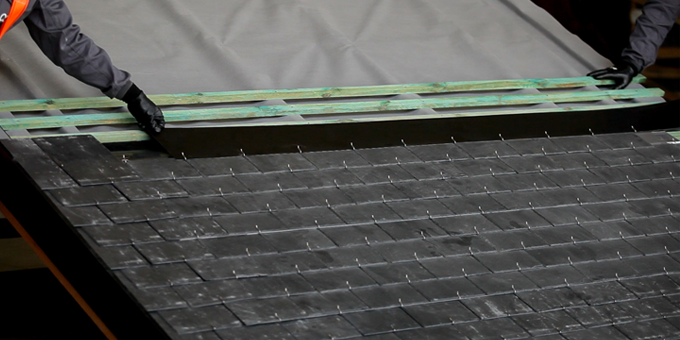 Firstly, we have to install the integration piece at the bottom and, then, the fixing piece.
THERMOSLATE solar thermal collectors are installed on this structure, isolated with waterproofing flashings between the panels.
After that, we need to install the stainless steel plus, and finally, we finish the installation process with the integration piece at the top. We can continue to install the rest of the natural slate in roofs or facades.
Natural slate is appreciated for its strength, durability, versatility and beauty.
THERMOSLATE is the most sustainable system for providing energy to our dwellings.
Nowadays, building regulations require energy efficiency and ecology. Proper architectural integration is increasingly required for buildings and family homes. Our solar thermal panels made from natural slate are the solution to these current needs.
For more information, take a look at our website.