Cupaclad
CUPACLAD enhances natural beauty and efficiency of Fælledgården care centre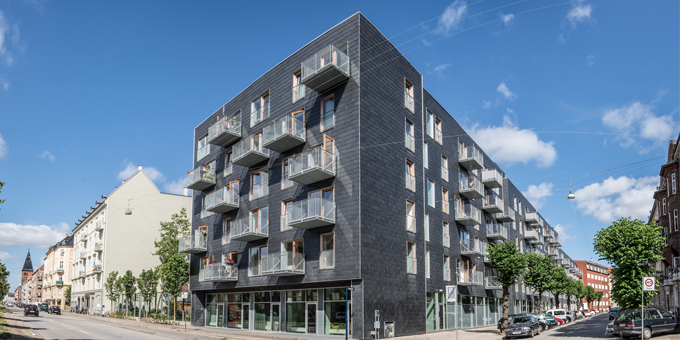 CUPACLAD, a ventilated façade system with CUPA PIZARRAS natural slate, has renovated Fælledgården care centre, located in Copenhagen (Denmark).
These 193 assisted living facilities are an excelent sample of sustainable architecture, converted to a low energy building in accordance to the Danish Building Regulations BR10.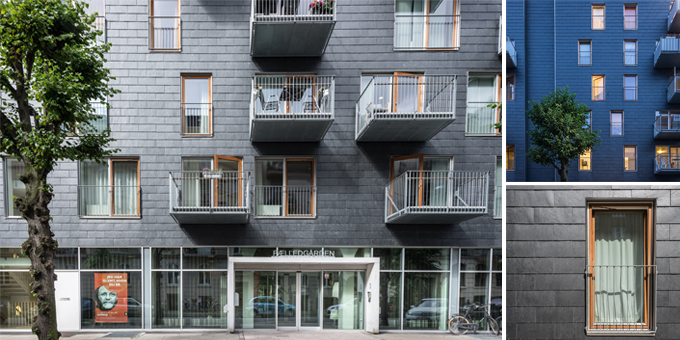 The existing dwelling house was transformed by a highly insulated building envelope clad in CUPA PIZARRAS natural slates. Jönsson, Esbensen + Sloth Møller, LIW planning and JJW Arkitekter has developped the rehabilitation which included the removal of the existing facade, the assembly of a new factory-produced facade elements and the cladding of a natural slate facade with CUPACLAD.
Our natural slate was installed to the a modern way, with horizontal orientation. Two hooks per slate were used for a visible fixing, creating a beautiful, ecologic and durable natural slate facade.
ENERGY EFFICIENCY AND DURABILITY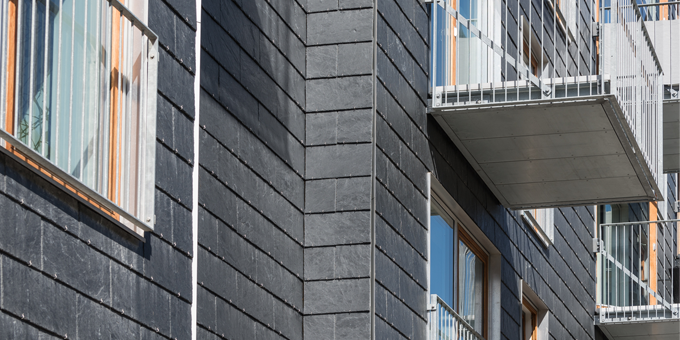 The existence of an air cavity behind the cladding gives CUPACLAD™ systems the advantages of a ventilated façade.
The main advantages are related to the "chimney effect" of continuous ventilation due to the temperature variation between the outside air and the air inside the cavity.
CUPACLAD provides energy efficiency and durability that reduces the risk of humidity and structural movements.
Here you can see a YouTube video about the renovation of the care centre:
In fact, the architects selected very specific materials such as CUPA PIZARRAS natural slate, white metal panels and concrete balconies in order to achieve a contemporary design.
CUPACLAD makes possible the installation of natural slate with horizontal or vertical orientation, offering new design possibilities for contemporary architecture.
For more information, visit Fælledgården website. You can also check CUPACLAD website.