Projects
HEAVY 3, the perfect choice for this unique home in Garvock, Scotland.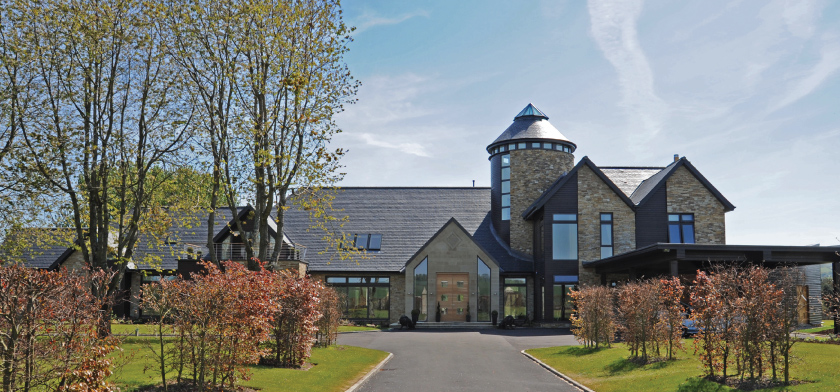 The 'Drum' is a mansion located near the village of Dunning, a few miles south of Perth. The aim of Yeoman MCallister architects was to give this luxury home a new life, but following the previous building's footprint. In fact, our natural slate CUPA Heavy 3 was selected for this roof replacement due to its likeness with traditional Scottish slates.
Drum of Garvock is a series of living spaces with a total surface of over 30,000 sq with a cylindrical drum. All the accommodations are linked vertically via the drum and horizontally via the entrance hall. This structural building system was one of Scotland's first for residential builds of this scale.
The drum signals the heart of the home and re-orientates the occupants from one axis towards the other one, providing them of stunning views of the gorgeous landscaped garden and pond.

An exclusive spanish slate for a unique roof
Our natural slate Heavy 3, with a thickness of 7.5 mm, became the perfect choice for this roof replacement. The job was carried out by Fraser Roofing professionals
Heavy 3 comes from CUPA PIZARRAS No3 quarry, in San Pedro de Trones (León, Spain). It is ideally suited for the Scottish market due to its close resemblance to the traditional highland slate from Ballachulish that is no longer produced. Both are blue black in colour, of similar thickness and grain, and with the characteristic inert iron inclusions.