For both tiled or lead roll ridge
Fix a length of underlay over the ridge to overlap the main underlay by no less than 150mm.
If the ridges are ventilated, a 50mm gap should be observed. This should run through each pitch along the top underlay.
The margin is then maintained by fixing the top course of slates.
When using hooks, one hook and one nail should be used.
Make weathertight by laying ridge tiles to a true line with edges and joints bedded with mortar, struck off as necessary.
Separate pointing is not recommended. The ridge ends are filled with mortar and slate slips, finished flush.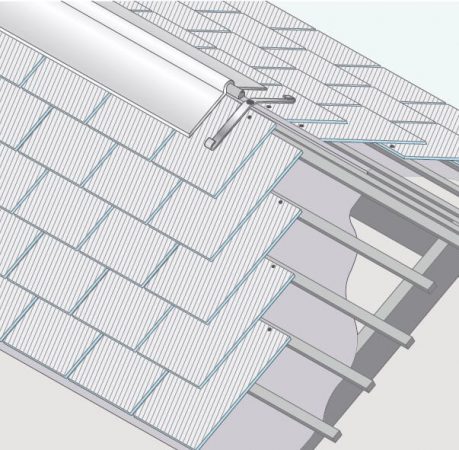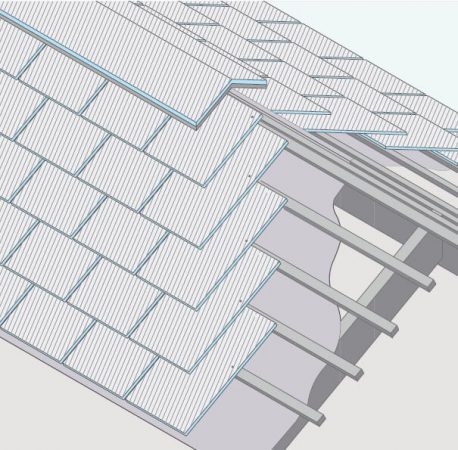 Cover the ridge with code 4, 5 or 6 lead depending on the situation. The width of each piece of lead will be the distance round the timber roll plus 150mm on each side covering the slates. On roof pitches below 30º it may be necessary to increase the laps and the cover over the slates to 200mm.
Each piece of lead should be fixed to the wood roll at one end with copper or stainless steel nails. The free edge of the lead should be secured with either copper or tern coated steel clips (lead clips are not recommended). The clips should be fixed at each lap and at about 500mm in sheltered exposures. However, in more exposed situations additional restraint may be necessary.
The length of each ridge flashing should not exceed 1.5m in length increasing to 2m maximum for code 5 lead.