Natural slate
3 contemporary style houses featuring natural slate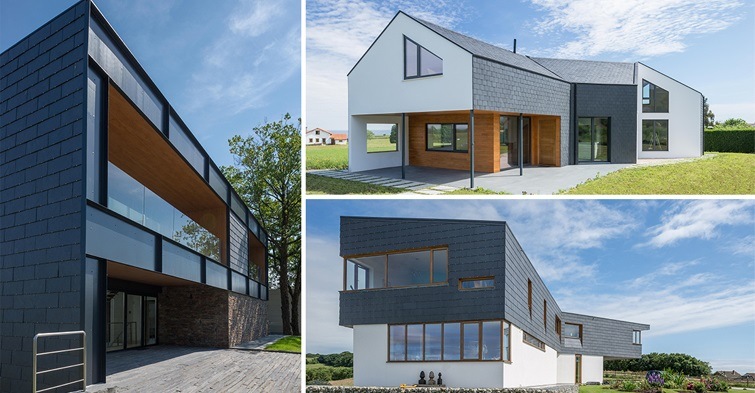 Contemporary houses and buildings are usually designed to be noticed and to astonish. They normally have clean lines and large windows. Some feature concrete structures wrapped in glass or aluminium screens, asymmetric facades, and, natural materials such as slate, amongst others.
Natural slate is a material used since ancient times due to its magnificent properties and present in many current architectural designs. This noble material has stood the test of time, and is featured in all kind of important projects, including cutting-edge designs, always giving them a unique character.
This selection of 3 contemporary style homes confirm that slate, thanks to its character and eco-friendliness, is more current than ever.
Located in an idyllic environment: the Asturian council of Valdés (Spain), and designed by Duque y Zamora, this 148 m2 bioclimatic house is composed of a rectangular floor plan and pitched roof. In this project the use of slate and wood attracts all the attention both on its roof and facade, providing a simple and modern finish.

The Duque and Zamora studio, specialized in the Passivhaus standard, was in charge of designing this revolutionary residence. Their main objective was to reduce the use of conventional heating and cooling systems by making the most of sunlight. In this striking home, innovation and energy efficiency go hand in hand.

This 400 m2 futuristic house, located in Pett (United Kingdom), is fragmented naturally by its surface with a clearly defined visible side facing other houses, but keeping a "private" side open to the natural environment.

Located on a hill, its design stands out for its impressive natural slate ventilated façade. This modern house was designed with efficiency and sustainability in mind. Without a doubt, a fantastic place to disconnect from the madding crowd.

Designed by A54 Architects and built by Sustainable Energy & Housing, this eye-catching 335 m2 modular house, next to Bilbao (Spain), is a great example of how natural slate blends perfectly into current designs and the environment.

The building uses symmetry and simple shapes to create 3 floors of wide spaces. In this project natural materials such as slate, stone or wood create a stylish and eco-friendly combination.