Natural slate
Top 4 reasons to choose CUPA R12 Excellence for your roof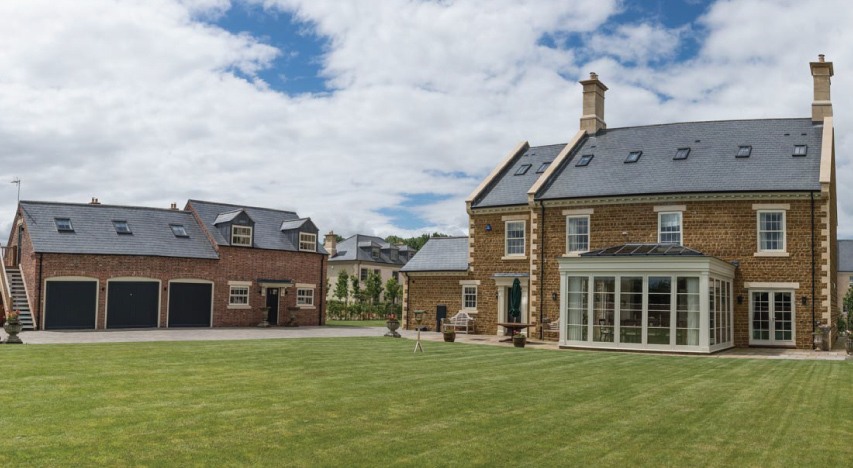 Slate has been used as a roofing material throughout the United Kingdom since the middle Ages. It comes in a wide variety of formats, sizes and thicknesses, creating interesting styles for restoration as well as refurbishing or new buildings.
The most widely used roofing slate formats in the UK are 60×30 and 50×25. But not all the roofing slates are the same. Spanish ones stand out by their high quality and they are considered to be the best roofing material. However, if you are looking for the most renowned roofing slate, that is the CUPA R12 Excellence. Get to know here why!
Exceptional choice

CUPA R12 Excellence is a high-quality dark grey natural slate with thin laminations and a smooth surface split to a thickness of 5 mm. Its incredible homogeneity and uniformity, very regular and flat, makes CUPA R12 Excellence slates easy to install while ensuring an outstanding aesthetic finish.

In fact, CUPA R12 Excellence is considered as a premium Spanish roofing slate thanks to its higher grading selection process compared to other natural slate tiles.

The best seller in the UK

Its unmatchable technical properties make it the best choice for British roofs: widely regarded as one of the best and longest lasting natural slates in the world. They adapt to any project, always providing considerable added value.

From quarry to roof

The slate characteristics depend on where it has been extracted. That is why both the quarry and the company producing it need to validate their reputation.

CUPA R12 Excellence slates are quarried from the CUPA PIZARRAS nº 12 quarry in La Campa (northern Spain). CUPA PIZARRAS is, since 1892, the world leader in natural slate.

100 years warranty

Our resolute commitment to quality has led us to offer a 100 years warranty on CUPA R12 Excellence slates. Choosing CUPA R12 Excellence means opting for peace of mind.

Are you looking for the highest quality roofing material that last a lifetime? Something that will add a distinctive appeal to the look of any project? Then CUPA R12 Excellence is the best choice for you.
Find out here everything you should know about Spanish slates…