Cupaclad
Your appointment with innovation! Find out CUPACLAD at ARCHITECT@WORK!

CUPA PIZARRAS will participate in ARCHITECT@WORK to be held in London next Wednesday 25 and Thursday 26 January.
A must-see exhibition where we will show our latest innovations in the field of cladding: CUPACLAD®, our natural slate ventilated facade systems.
Visit us at the Olympia London – National Hall (Hammersmith Road – Kensington, London) from 13:00 until 20:00. We are at booth 36!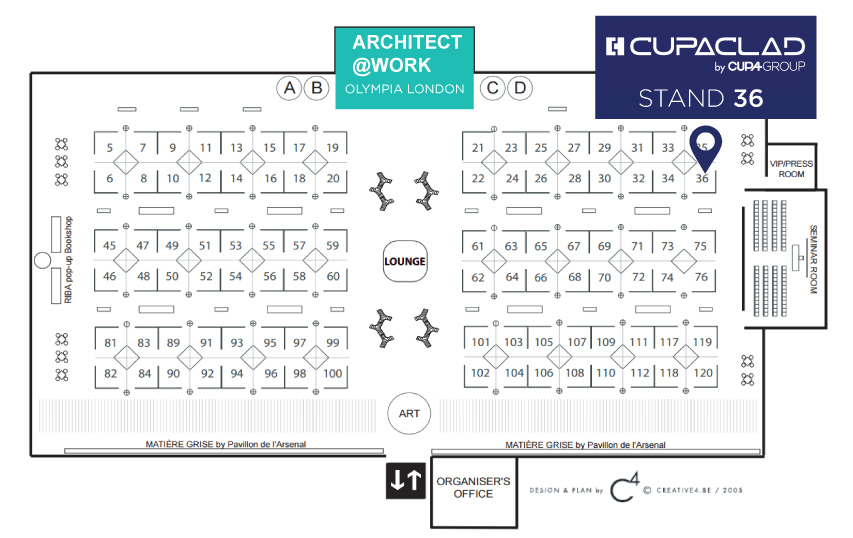 Don't you have your invitation yet? We invite you! Ask us for your invitation here.
BLACK IS THE KING OF COLOURS
Renoir was completely right. As a matter of fact, black combines perfectly with any other colour, creating exceptional blends. Moreover, it represents elegance, simplicity and good taste.
CUPA PIZARRAS will introduce at ARCHITECT@WORK a true example of majesty and architectural perfection in black: the rainscreen cladding systems in natural slate CUPACLAD®.
Thanks to its natural brilliance and inimitable texture, natural slate is a noble material, elegant and with a unique personality, bringing an outstanding character to any kind of project.
If black is the king of colours, CUPACLAD® is the king of cladding: a full range of systems fitting any style.
Besides reinforcing the contemporary design of any façade, CUPACLAD® systems dress it up in an efficient and durable way.
The use of highly durable tectonic slate, new fixing systems and rainscreen cladding efficiency make CUPACLAD® a competitive, totally sustainable alternative for cladding any type of facade.
For further info about our rainscreen cladding systems in natural slate, download our CUPACLAD brochure.
A NOT TO BE MISSED APPOINTMENT WITH INNOVATION!
ARCHITECT@WORK is an exclusive event that brings together innovative architects, developers and specifiers in a creative and contemporary atmosphere. The perfect opportunity to present them an innovative and up-to-date solution like our natural slate rainscreen cladding systems CUPACLAD®.
ARCHITECT@WORK is all about innovation and focuses on the exchange of knowledge and contemporary ideas.
Find more information about this event on the ARCHITECT@WORK website.