Cupaclad
06/09/2018
Les Palmiers: A modern development featuring CUPACLAD

Damgan, in the French Britanny, has developed an important seaside tourism growth since the 1950s. Taking advantage of its geographical location, close to the Vilaine estuary, the city has many villas and hotels to accommodate tourists. In this context, the agency Anima Architects created in 2017 a housing complex of 12 second homes.
The use of slate on the facade was very relevant for the architectural firm. Christophe Le Dirach, associate architect said:
This is a stylish choice, the atypical use of slate on the front gives rhythm to the entire building.
The mineral and natural appearance of the product particularly appealed to the project manager. In addition, the natural slate durability was decisive for the future owners.
Often with a wooden cladding, the client fears the maintenance. With natural slate, this concern is minor since the durability simplicity.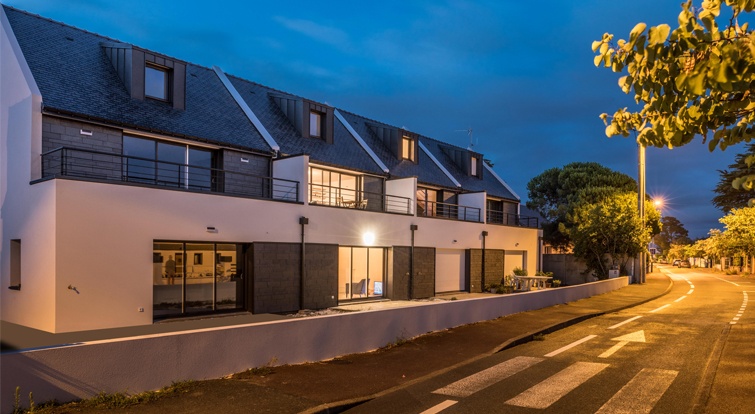 The architect designed a simple project: a wall that separates by sequences the different apartments. This sequencing is animated by the random layout of Cupaclad 101 Random slates.
The use of 3 formats provides dynamism to the facade while emphasizing the homogeneity of the whole development. The appearance is reinforced by the with light coloured ground floor. Moreover, the invisible fixings used contribute to reinforce the horizontal lines of this contemporary architecture style.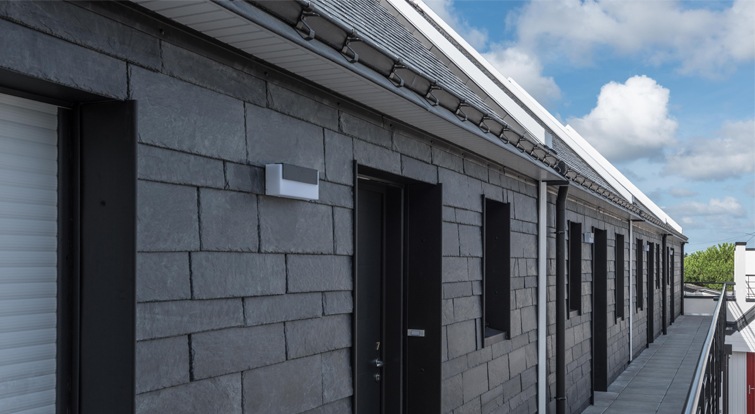 Damgan local council were enthusiastic with the idea of using natural slate in a more modern way.
In this way, Les Palmiers renews the urban landscape of this small seaside resort by reinventing a classic material through an original implementation.