Readyslate
09/06/2023
Readyslate vs composite slate – Five reasons to use our innovative roofing system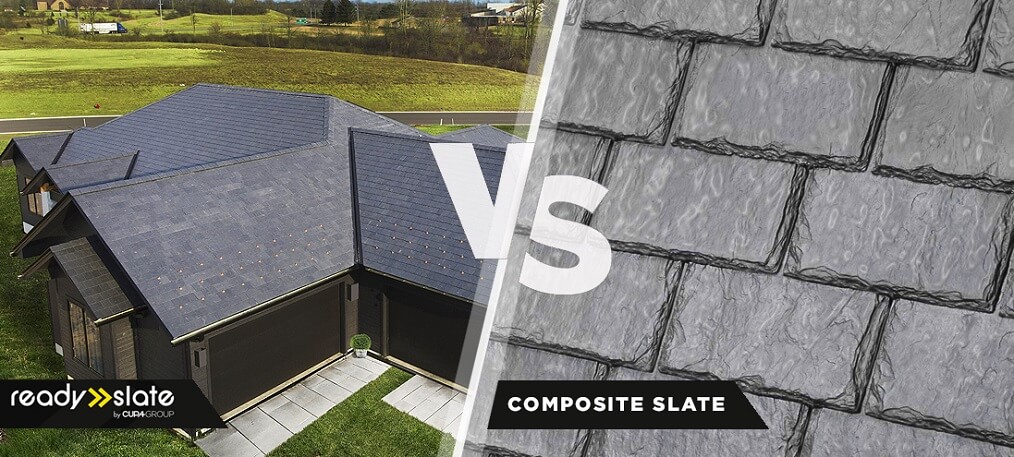 Thinking about replacing your old roof? Before making that decision, we recommend reading about the advantages of Readyslate, the first pre-assembled natural slate roofing system.
While Readyslate outperforms other roofing alternatives, today we are focusing in on 'synthetic slate'. Using composite slates, or any kind of counterfeit or imitation products, can lead to several negative consequences and implications.
Quality

Readyslate modules are composed of 6 hand quarried, premium natural slates, extracted from the best quarries in Spain. No artificial material can reach unmatchable properties provided by Readyslate.

Durability

Natural slate is able to withstand harsh weather conditions. Meanwhile, fabricated slate roofing can experience unexpected early failures, like curling or falling apart. It is not uncommon to see warping after few short years.

Aesthetics

Readyslate increases your home's curb appeal. Slate has a beauty and natural appearance that is impossible to replicate with artificial materials. The original and the copy are easily distinguished.

Maintenance

Synthetic slates could end up costing more than Readyslate in the long run due to the need for frequent repairs, replacements, and maintenance. Our roofing system is low maintenance and only requires regular visual inspections.

Environmental impact

Natural slate is the most sustainable roofing material you can use for your roof. It has a lower ecological footprint compared to the energy-intensive processes involved in creating synthetic materials.
In summary, investing in genuine, high-quality materials like Readyslate ensures the longevity, aesthetics, and overall value of your projects.


Want to know more about Readyslate? Our technical team is ready to answer any questions you may have!
If you are interested in this topic, you can also read the article written by Víctor Cárdenes Van den Eynde on the truth about fake roofing slates.