Natural slate
12/09/2023
What should you know about Spanish slates?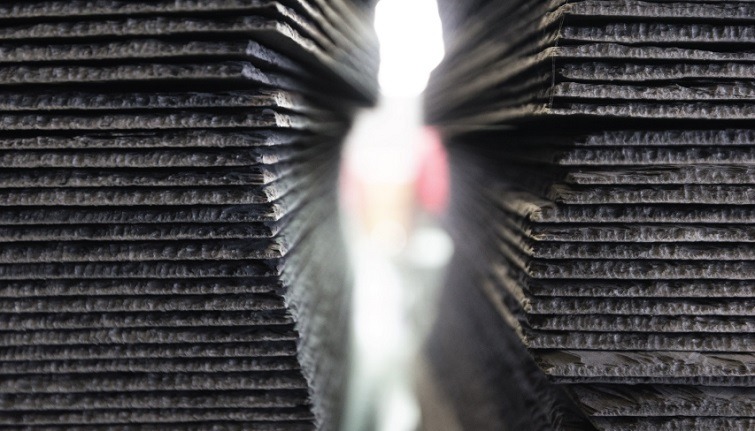 When choosing natural slate you are opting for the best roofing material: long service life, quality, ecology and beauty. But are all the slates the same? Where can you find the best ones?
What is Spanish slate?
Spanish slate is a foliated, metamorphic rock created from fine-grained sediments over the course of millions of years. Is mainly composed of quartz, sericite and minerals of the chlorite group. Unlike UK slate where we find a greater variety of colors, Spanish slate is usually black or gray.
The lithotype for Spanish roofing slates is B1, which according to the International Classification of Slate for Roofs (IRSC) corresponds to an authentic black-gray slate, fine grain, homogeneous and with a high fissibility, which allows it to be exfoliated in fine and regular tiles. Surface texture and brightness depends on the quarry ranging from smooth and silky to rugged and grained.

Are you interested in knowing the differences between the slate of these two countries?
Don't miss this comparison between Spanish and United Kingdom slate.
Slate has a long tradition as a construction product. Its strength and outstanding performance make it one of the most durable and versatile materials mainly used for roofing and cladding.
Another remarkable feature of the Spanish natural slate is its fire resistance. This rock is non-combustible and receives the A1 classification, the best possible score according to the European standard EN 13501-1.
Today, most slate used in the United Kingdom has a Spanish origin and is used for high end projects, historical buildings, traditional pitched-roof housing and sustainable architecture.
Why Spanish slates?
Not all slates are all alike, nor do they offer the same guarantees. Slate produced in Spain, unlike slate from other parts of the world like China or Brazil, is of tectonic origin. Recognized worldwide for its performance, Spanish slates stand out by their high quality and superb aesthetic finish.
Spain is the world's first slate producer. The biggest and best reserves of tectonic natural slate in the world are found in the north of the country, an area with a strong mining tradition from time immemorial.
Natural slate is already one of the most renowned roofing materials, and more and more architects and housebuilders are using it for their projects. In this respect, Spain plays the world leading role. In fact, 90% of the slate sold in the world is Spanish!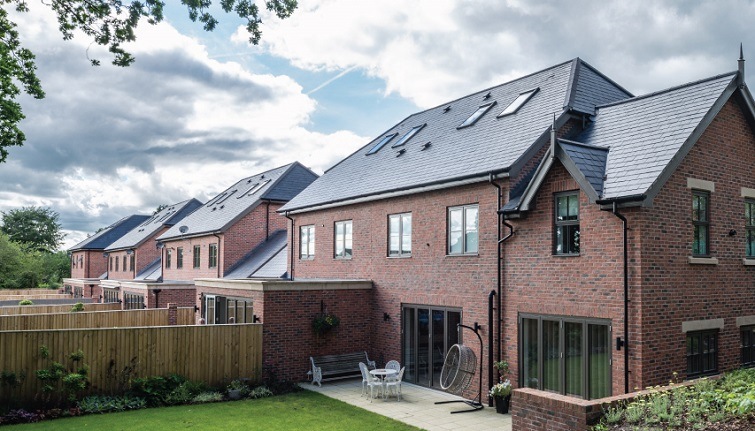 Where are the quarries located?
In the north of the country, in the Galicia and Castile and León provinces is where the largest number of mining operations are found.
Spanish slate from the Orense area was formed from muds laid down over 450 million years ago and was metamorphosed 300 – 350 million years ago. These deposits are found on slate formations of the middle and upper Ordovician. The most important are the geological structures of the Truchas synclinorium (Orense and León) and the Caurel syncline (Lugo and León).
Natural slate is extracted from both quarries and mines, being surface quarries the most common and traditional way of producing natural slate. Once the overburden is removed, slate is sawn in large flat slabs that are then carefully cut into smaller natural slate blocks, and transported to a transformation factory.
Blocks are then hand split by skilled craftsmen called "labradores" into roofing slates of the desired thickness. All slates then undergo final inspection, with each producer having its own selection and quality criteria. Spanish slates are packed vertically in wooden pallets for distribution.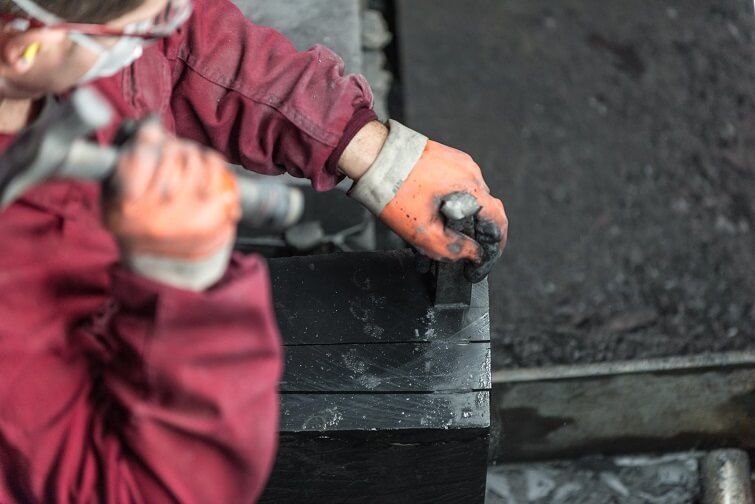 Formats and sizes
Slate tiles can be produced in a large variety of sizes, formats, and models. Each geographical area usually has its own preferences that are marked by climate and tradition.
In the case of the United Kingdom, the most commonly used slate sizes are 60mm×30mm and 50mm×25mm. In England, slates of between 4mm and 6mm thickness are usually installed, however in Scotland, slates thicker than 7.5mm are the norm.
Regarding models, the rectangular is the most typical but you can also see many roofs with other shapes such as square, rhombus, round,…
The weight of Spanish slate varies according to the format and thickness chosen, with a single piece weighing between 0.9 grams for the 30×20 size and 2.5 kg for 60×30.
Slate grades
Once the process of cutting and craftsmanship is finished, the slate is selected piece by piece by a quality control team based on different technical and aesthetic guidelines. These guidelines, where flatness and width are highlighted, allow the slate pieces to be classified in three different selections.
R Excellence selection: This is an extraordinary rigorous classification process which only pieces with high flatness and very regular thickness could pass. This is considered to be the best natural slate produced in the world. Moreover, it is ideal for projects where a homogenous result for a perfect roof is demanded.
H selection: It's characterized by its high quality and only admitting slight differences in the flatness and thickness of the piece. These are slate pieces chosen by expert installers who are capable of fitting the product to make a homogenous roof.
Natural selection: This selection is made up of slates that allow greater variations in thickness and flatness. The technical characteristics of the slates are the same as in the superior
selections, as they are produced from the same natural slate blocks. The NATURAL selection competes on cost with artificial products, but keeps the long life expectancy and low environmental impact that characterises natural slate.
How to recognize high-quality Spanish slates?
In recent years, Spanish slate tile roof production has increased and that's because more and more countries are finding out their high quality and performance. But not all slates are the same!
Most of the renowned experts in slate roofing agree that CUPA PIZARRAS is the best Spanish natural slate thanks to its quality.
It is vital to demand updated documentation from the producer which demonstrates the performance of the natural slate. Roofing slate suppliers must provide a DoP indicating product performance classified in accordance with the European standard BS EN 12326-1:2014: Slate and stone for discontinuous roofing and external cladding. Specifications for slate and carbonate slate.
In the declaration of performance (DoP), high-quality slates are identified by the letters: A1, T1, S1 and W1:
T1 – Thermal Cycle code: No changes in appearance. Surface oxidation of metallic minerals. Colour changes that neither affect the structure nor form runs of discoloration.
A1 – Reaction to fire:  Non-combustible material.
S1 – Sulphur Dioxide Exposure: The slate is exposed to a SO2 solution, and after it there are no observed damages.
W1 Water absorption: To access the W1 it is necessary that the absorption is less than 0.6%, something that all our slates meet, in fact, most of them are below 0.4%.
Unlike other brands, here at CUPA PIZARRAS, we produce and transform our natural slate in our own quarries and units. That enables us to identify the origin, type, technical data and production dates for each of our natural slates.
As a general rule, we always recommend acquiring natural slate with producer company brand and information, avoiding generic and distributor's brands as far as possible as these make it difficult to correctly identify the product.
Our quality system is so meticulous that we offer a 100-year guarantee on our Excellence range. Our exhaustive control of the whole process enables us to offer a range of natural slates that exceed all the international quality standards (CE marking, ASTM, French standard NF, ATG certification,…).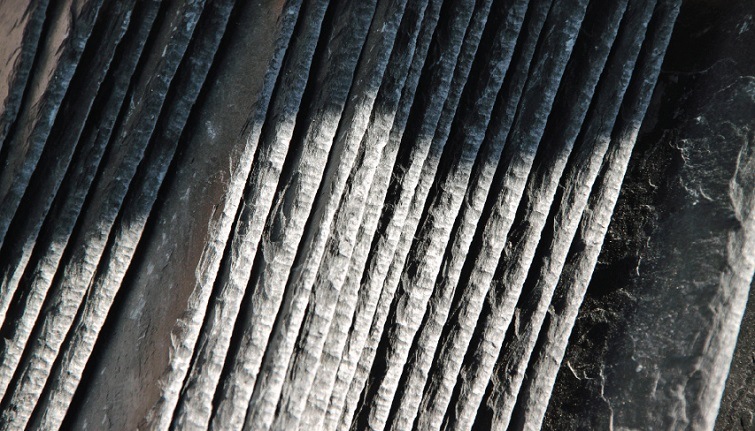 Do you want to test first-hand the excellent properties of spanish slate?
Register as a professional and request a free sample.