Projects
CUPA PIZARRAS natural slate covers Sports Center 'Le Lac' Neufchâteau's facade
CUPA PIZARRAS covers Sports Center Adeps Le Lac Neufchâteau's facade (Province-Luxembourg, Belgium). Located on the Ardennes, this sports complex uses our innovative installation system CUPACLAD®, made for natural slate ventiladed facades.
Our natural slate, installed by our partners Jacobs, creates a modern look to this cladding facade, with a total surface of 1,600 square meters.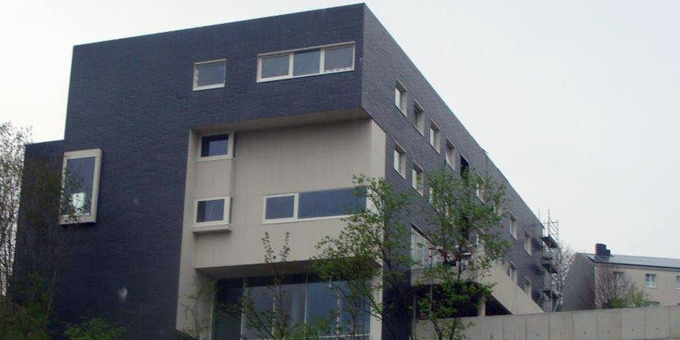 CUPACLAD®, THE PERFECT CHOICE
Natural slate can lend itself to modern architecture and heritage projects. Split into an average thickness of 5 mm, our natural slate has been tested in compliance with European Standards.
CUPA PIZARRAS natural slate is the perfect choice for the facade of this building. With CUPACLAD®, natural slate can be horizontally overlapped. Our invisible installation system uses patented screws to fix natural slate tiles to the façade. Natural slates are laid horizontally and easily fixed by concealed screws, reducing installation times.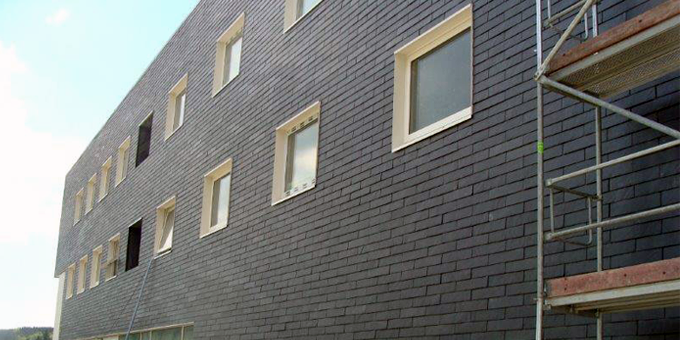 MODERN SPORTS INFRASTRUCTURE
The Sports Center Adeps Le Lac Neufchâteau originally opened its doors in 1983. Since then, it has been providing the surrounding communities with quality fitness and recreation activities. The building has been renovated with modern sports facilities: a reception desk, administrative offices, rooms and a restaurant.
The Sports Center has an indoor pool and offers a range of sporting facilities, including football, tennis, beach volleyball, athletics and activities such as ballet, badminton, hip-hop or aerobics….