Projects
11/01/2019
First-class natural slate in Falkirk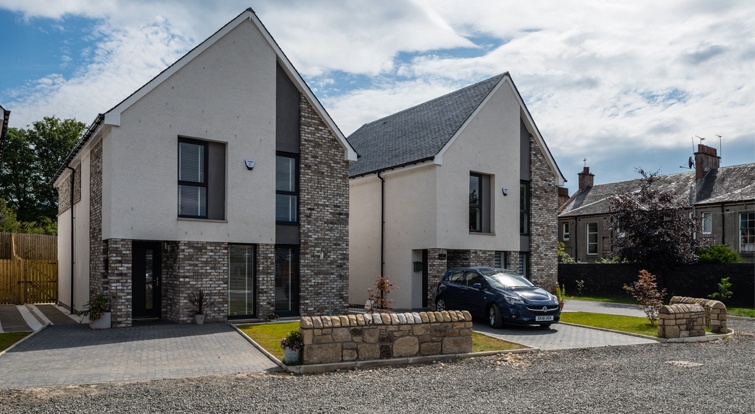 When professional housebuilder, GRS Homes required a product that could replicate the aesthetics of Ballachulish slate for the Sikorski Gardens development, CUPA PIZARRAS' Heavy 3 roofing slate was the ideal solution.
Located in the centre of Falkirk, Scotland, Sikorksi Gardens is a new housing development consisting of five small to medium-sized detached homes. Built on the site of the town's old Polish Club, which had been left derelict for the last eight years, the new housing development was completed in November 2018.
Graham Scott, Managing Director at GRS Homes, commented:
We have worked with CUPA PIZARRAS for the last 15 years on a number of projects and there are never any complications. Heavy 3 was selected due to its beautiful aesthetic and similarity to Ballachulish – the traditional black-blue Scottish slate that is no longer quarried. It's excellent to be able to create a high-quality and luxurious appearance for our homes that also reflects traditional Scottish heritage.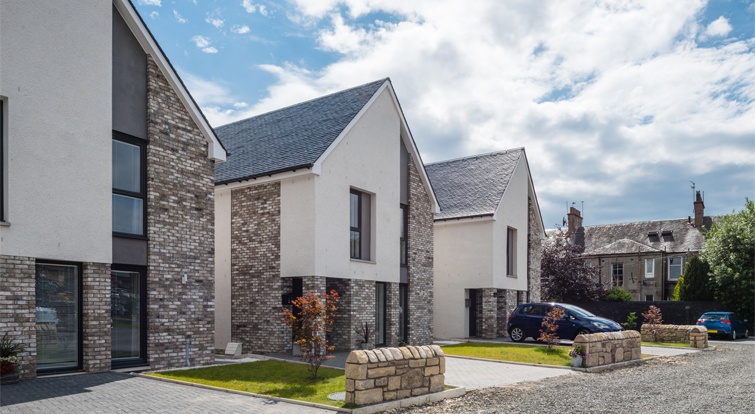 CUPA PIZARRAS' Heavy 3 slate is a true heavy and is impermeable to weather due to the thickness of the slate – 7-8mm – which makes it extremely tolerable to the Scottish elements. The product has an impressive 100-year warranty and CUPA PIZARRAS has never had to replace a roof in Scotland, providing homeowners with complete peace of mind.
Medium grained and black-blue in colour with occasional quartz grain detectable on the surface, Heavy 3 has an extremely close resemblance to the traditional Ballachulish slate.
Ryan Marshall, Architect and Associate at Arka Architects commented:
Sikorski Gardens was quite a complex but successful project. Initially, three houses were planned for this project, but we managed to maximise the site and build five properties. CUPA PIZARRAS is an approachable brand that we have frequently worked with throughout the years and we have always been impressed with the service we have received.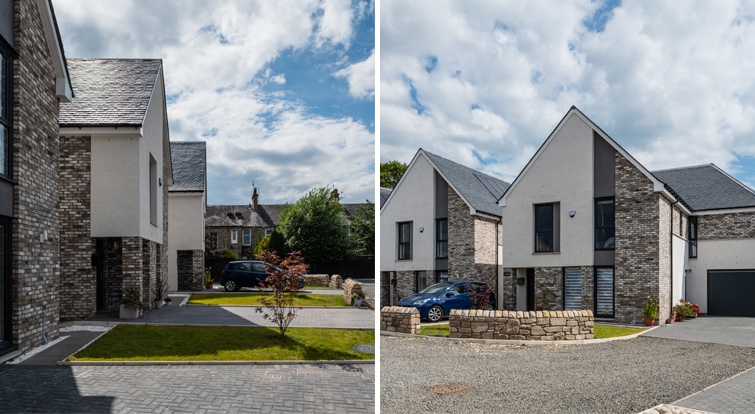 Given the relatively simple forms of the houses, the material choices were fundamental to delivering the overall quality of the finish. GRS Homes fully appreciated our desire to try and blend the traditional with the contemporary, and the choice of slate was an integral part of this. Materiality is key to the successful integration of old and new and Heavy 3 delivers a great aesthetic quality that is ideally suited to the Scottish market.
Heavy 3 was specified due to its sustainable elements, minimal waste and reduced maintenance requirements. It's also a cost-effective option, as well as an effective draw for prospective and eco-conscious homeowners.